Hello everyone!
It's time to bring winter season with Christmas design for once more.
Pinecone is the essential building block for most winter season designs. And Christmas has it's own unique patterns ranging from wreaths to ornaments!
So, in order to infuse the two compatible themes up for the holiday, we brought you the 25 most interesting and fun to craft DIY ideas that you can find online!
Make sure you let us know your favorite pick and share us with your own personal experience with it in the comments down below!
1. Stylish and Colorful Pinecone Christmas Ornaments!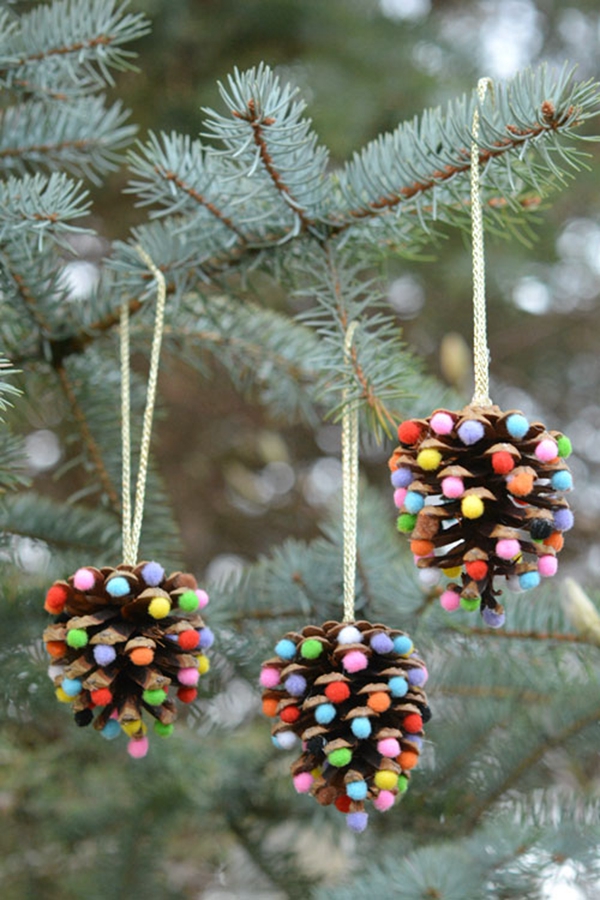 Pinecones are best fit to be sed as decorative Christmas tree ornaments.They allow your design and decoration to have a certain sense of elegancy and naturalistic look. This especially fits perfect for a Christmas tree as pinecones naturally grow from them.You can also enhance that image and add it a little flavor by using colorful pompoms!Here is a guide showing you how exactly you can do it…
Get the Ideas Here: Debbie Chapman from One Little Project
2. Decorate your Christmas Dinner Tables with These Pinecone Foxes!
These cute little foxes would be the perfect decoration for your Christmas table!You can also use them to decorate shelves if you don't have that much room on the table. The quick little craft idea requires the help of felt. But there is no need for sewing, you can achieve all the attachments with the help of hot glue!Check this simple guide out to learn more about it!
Get the Ideas Here: Lia Griffith
3. Lovely Christmas Wreath That You Can Hang by Your Fireplace!
These colorful pinecones resemble a flower if you take a step out and look at them from a distance. You can use this visual trick to make a Christmas wreath out of them.Make sure you choose your color palette correct when you start dying them. Colors with the tone ranging from orange to brownish are fine. If you are not sure which tones to use, imagine leaf colors on fall season and emulate that n your craft!
Get the Ideas Here: Haeley from Design Improvised
4. Your New Favorite Luminaries!
Half the amaze of decoration comes from proper lighting.If you are not using the necessary lighting and the matching color to go with the rest of your room, you are only ruining all you work for. These luminaries can add warmth to your house in Christmas nights and act as decorations as themselves as well!Check this quick guide for more details!
Get the Ideas Here: Crafts by Amanda
5. Surprise Your Guest with This Pinecone Topiary!
Here is something that would look amazing on top of your door. Just the perfect place to greet your guests and show them the magic of Christmas!You can also dye the pinecones with the same color palate we mentioned on the pinecone wreath idea. Remember, when in doubt, use the colors of fall.
Get the Ideas Here: Stephanie Dulgarian from Somewhat Simple
6. Colorful Turkey Toys Made with Pinecones: Your Kids Are Going to Love Them!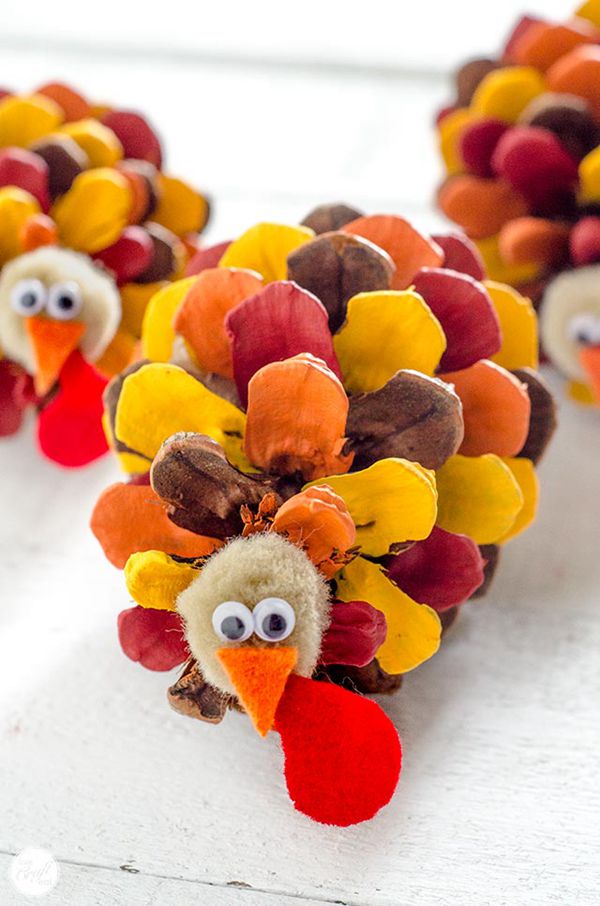 This craft idea allows your kids to make colorful and cute little turkeys from pinecones!There are some felts being used here but there is no need for any sewing job. But you do need to dye all the little wooden pieces in the pine. They are fairly easy to do so your kids won't have a hard time making them.You might want to supervise them from time to time, though. Or they might make a mess around every corner in the room!
Get the Ideas Here: Live Craft Eat
7. Got Any Pinecones Left Unused? Make A Basket Full of Pinecones Look Stylish!
If you have some leftover pinecones after a long day of crafting, you can simply give them a paint job and adapt them to your decoration as well!The color palette used he is ice blue and burgundy, but you can also go with green and orange if you are looking for a vintage design to go with your room.
Get the Ideas Here: Jen Causey from Something Turquoise
8. Simple Star Symbol from Pinecones That Anyone Can Make!
This is a cute little design that you can get started on right away!Another way to do that would be to also dye the pinecones in a way that would fit the rest of your room.You can either dye them with colors of fall, or ice blue with burgundy combination like we previously used. The key here is to create a sense of contrast.
Get the Ideas Here: Emily Sweeten from Ella Claire
9. Christmas Ornaments for the Crafty Ones: Pinecone Reindeers!
These ornaments are a little bit of an upgrade to our original pick for a pinecone ornament.Yes, pinecones make great ornaments because they naturally grow from pine, Christmas, trees. But that doesn't mean you can fix them up a bit to make it make interesting. These reindeer designs are great place for you to start on that. You will need some hot glue and felt with various colors to achieve that by the way.Check this simple guide to learn more about it!
Get the Ideas Here: Melissa from Fireflies & Mud Pies
10. Small Pinecone Christmas Trees Decorate Your Windows With!
Many people wonder which live plant go well with a Christmas design. The answer is of course both obvious and not so clear. It is obvious because pine trees are the symbol of Christmas, but they are not exactly indoor plants. And many households only have live indoor plants that bloom on spring and summer. Instead of making a live plant, you can use pinecones to emulate a pine tree design!This way you'll have a small indoor plant that also looks fine on all throughout winter!
Get the Ideas Here: Jennifer from Town and Country Living
11. Cute Little Pinecone Elves for Your Kid's Room!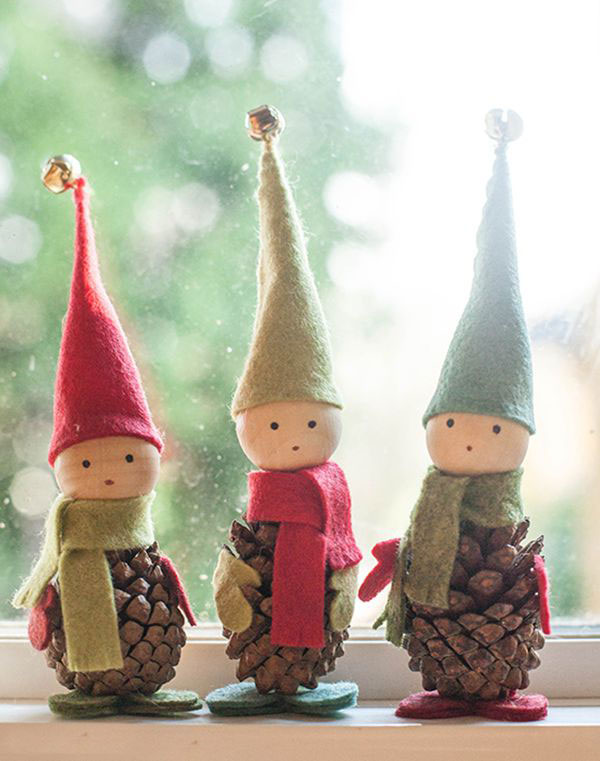 These are the perfect decorative little elves that would go like wonders inside the kid's room.They are of course fairly easy to make, and you kids can start on them right away!
Get the Ideas Here: Lia Griffith
12. A Small Upgrade: Pinecone Snowflake Design!
These simple pinecone design patters are a little upgrade to our previous pick, the pinecone star patterns. But don't let it scare you, the principles remain the same.And just like our previous pick, you can dye the pinecones to look better!
Get the Ideas Here: Bren from Brendid
13. A Basket Full of Zinnia Flowers from Pinecones!
This craft idea offers a drastic change to our previously used color patterns.If you are the one to switch things up a bit and not afraid to use more eye grabbing colors to decorate your house with, these cute little pinecone followers can spark up many different ideas for you!
Get the Ideas Here: A Fanciful Twist
14. These Cute Little Fairy Necklaces Will Keep Your Kids Safe!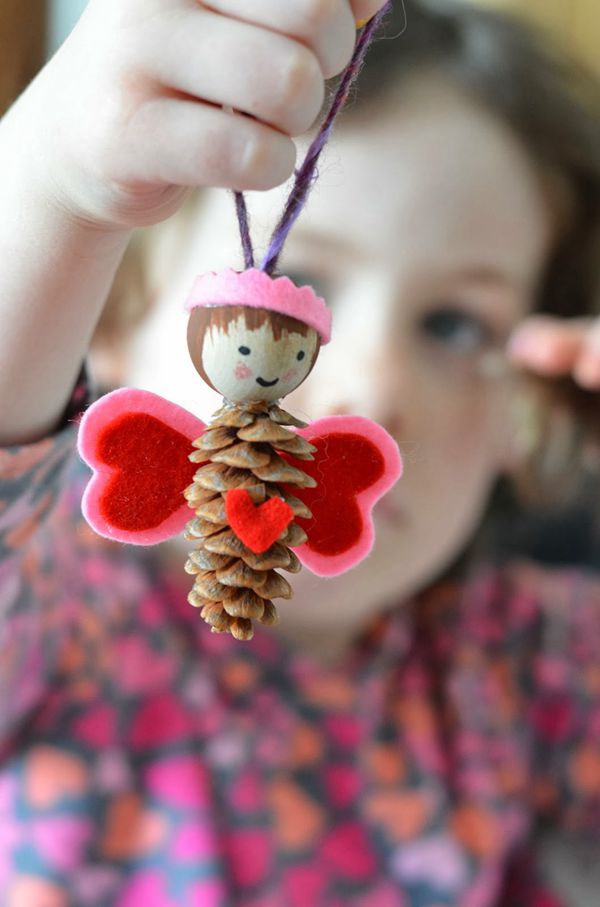 With only some felt, cotton, and a pinecone you can make these amazing fairy necklaces for your kids! For the making of it, you are also going to need a glue and a scissor.You can also dye the pinecone with the favorite color of your kid!
Get the Ideas Here: Twig and Toadstool
15. You Kids' New Favorite Costume: Pinecone Wans and Crowns!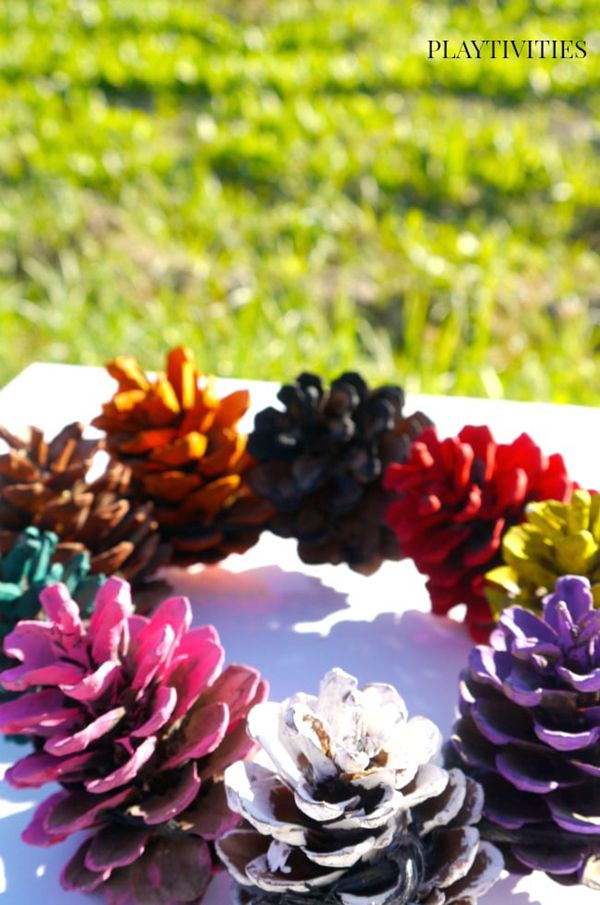 Do your kids enjoy a little custom play?You can start crafting these unique little pinecone crowns and wands with little to no materials needed! As the guide intents to show, you can also mix things up a bit with some painting!But remember, this time your color palette can have highly vibrant colors with a large variety!
Get the Ideas Here: Birute Efe from Playtivities
16. A Simple Guide to Glitter Your Pinecones!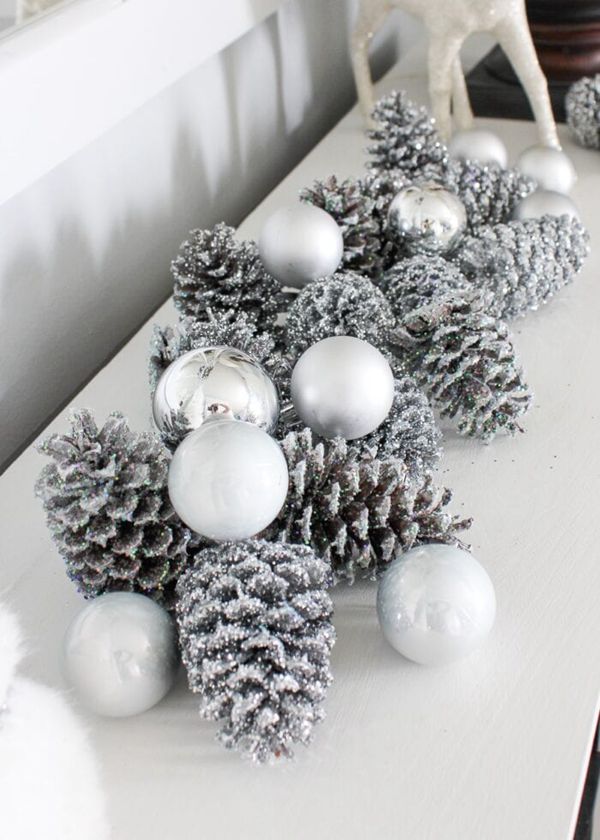 Here is a simple guide showing you how to glitter your pinecones!This technique can be useful for almost any other selection on our list as well. Simply follow this quickly little guide and you can easily glitter the pinecones for your wreaths, topers, and ornaments with Christmas magic!
Get the Ideas Here: Megan from The Homes I Have Made
17. You Can Hang This Pinecone Flower Frame on Your Wall All Year Long!
This is a cute little decoration that you can keep all year long!It is not quite exclusive to Christmas or even winter per say, even thought this craft uses pinecones. But your chosen color palette really has the final say in this.
Get the Ideas Here: Crafty Morning
18. Another Great Idea for a Pinecone Wreath!
This cute little pinecone idea is a lot like our original selection for a pinecone wreath.But it has a cute simple colorful upgrade to it that all can enjoy making!
Get the Ideas Here: Make and Do Crew
19. A Simple Christmas Tree Ornament Idea!
This, again, is an upgrade to one of our previous picks.It can give you an idea on different pompom options that you can use in either your ornaments, or your wreaths, or even any other Christmas pinecone idea that you see on our list.
Get the Ideas Here: Mama Miss
20. Cute Little Pinecone House and Trees!
This craft doesn't only represent a decorative pinecone craft idea for Christmas, but it also acts as a way you can share a crafty moment with your kids and make memories to look back at for years to come!With the simple principle told in this guide you can also make an entire pinecone village! It only depends on how enjoyable you found this craft while building the house.
Get the Ideas Here: Lydi Out Loud
21. Cute Little Pinecone Owls That You Can Hang on Your Christmas Tree!
Here is a pinecone ornament idea alternative to our reindeer selection!It is absolutely adorable, and it doesn't actually stop you from making reindeers as well. You can add as many varieties into it as you desire. You can add colors, you can add pompoms, you can also make different animal patterns.
Get the Ideas Here: Repeat Crafter Me
22. Elegant Wall Art Made with Pinecones!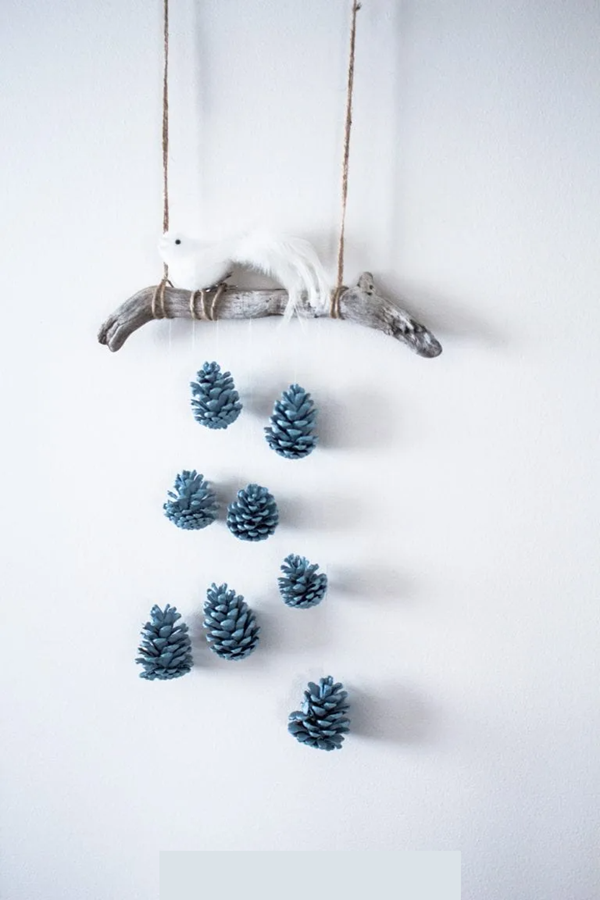 This simplistic design allows you to have an elegant design on your wall for Christmas and winter without making this too complex and all over the place.It is fairly easy to craft, and it doesn't take much of your time.But most importantly, it doesn't tire your eyes out when you are looking at it, it just fits the room in perfect harmony.
Get the Ideas Here: Jane and Sonja from Sustain My Craft Habit
23. A Red Alternative to Other Pinecone Christmas Wreaths!
Here is an alternative to our previous pinecone wreath selections on the list!This time it is dyed in red and has a little belt on it to resemble Santa. Just a perfect, simplistic design idea that can show a lot by doing so little!
Get the Ideas Here: Scratch and Stitch
24. A Minimalistic Pinecone Elf Idea!
Earlier we talked about some pinecone elves that you can decorate your kids' room with. This design idea gives you an alternative approach to the concept and allows your kids to enjoy more simplistic designs whilehaving a fun time crafting!
Get the Ideas Here: Megan Kapple from One Little Project
25. The Simplest Pinecone Wreath Idea!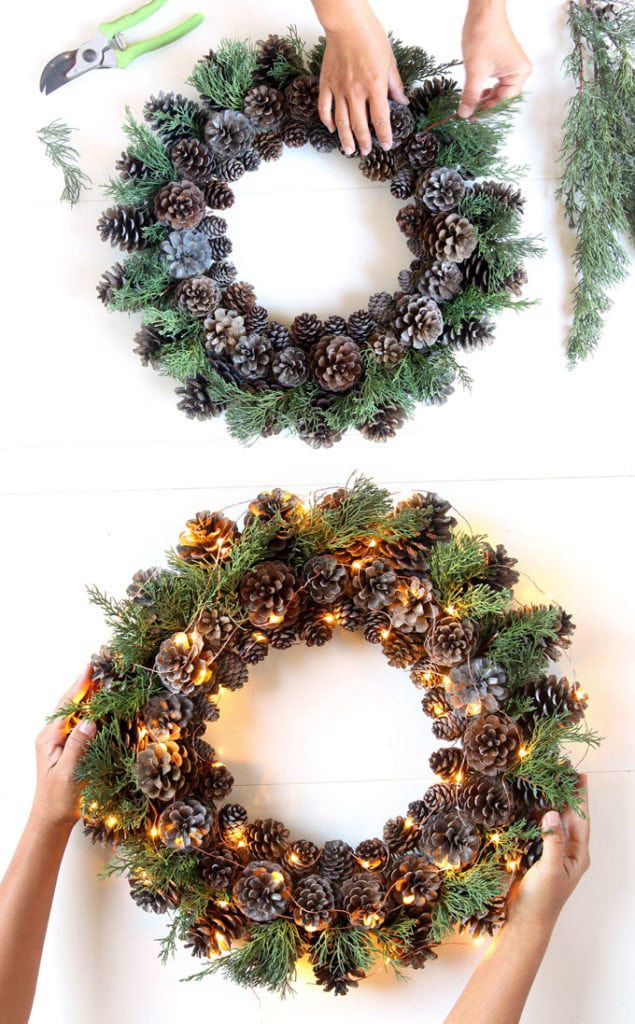 This simple little pinecone idea uses some other materials that you can easily fine in nature!Along with using leaves from pine trees and, of course, cones as the name suggests, this guide also shows you how you can utilize Christmas lights to luminate your decoration! You can of course try to die the pinecones to make it look more interesting.Try orange and green! You'll thank us later.
Get the Ideas Here: A Piece of Rainbow
Did you enjoy our list?
Do you have any other ideas that you'd like to share with us?
What other lists would you like to see on our blog?
Let Us know in the comments below, and don't forget to tune in for more crafty ideas!