If you're looking for your new favorite craft idea, look no further than string art. String art projects can range from fancy and elaborate to short and simple. There are plenty of ideas out there when it comes to this colorful craft.
Are you ready to string up some homemade, handmade artwork? Here are some great ideas to help spark some inspiration.
1.Step by Step String Art Tutorial for Beginners
Get the Tutorial Here: Feels Like Home
Spring may not yet be here, but that doesn't mean you can't create some great spring decor! This Easter Bunny, carrot & egg String Art craft is simple and easy. to create! A printable string art template is included.
2.Spring Easter Bunny String Art Craft
Get the Tutorial Here: Surviving on a Teacher's Salary
Say bonjour to this adorable laundry room that has a French country feel. These sleek, wooden shelves keep it smart and simple. Is anyone else in the mood for a croissant?
3.String Art Customizable Dog
Get the Tutorial Here: Customized by Ashley
What a great way to represent Rover! Customize this piece with your pet's name and coloring to show off your best four-legged friend.
4.Easy DIY String Art Gift
Get the Tutorial Here: The Homes I Have Made
Are you looking for a fun but affordable gift idea that the kiddos can help make to give to grandparents and teachers? These do-it-yourself string art plaques just take a few supplies that can be found at your any craft store.
5.DIY String Art Ornaments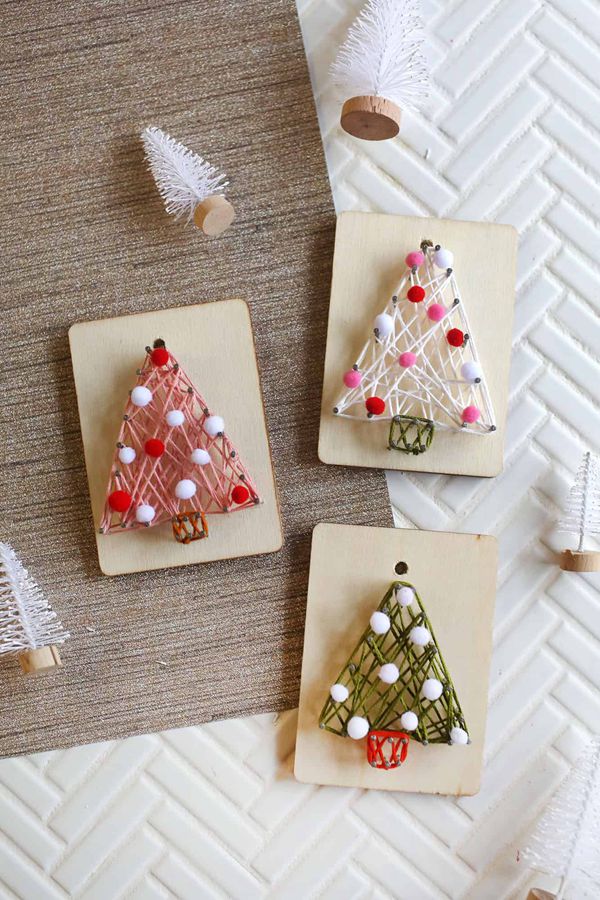 Get the Tutorial Here: A Beautiful Mess
Shed a little light on your crafting with these Christmas tree ornaments. These utilize a light from your tree to light the ornament's "star" to make your tree merry and bright.
6.Love String Art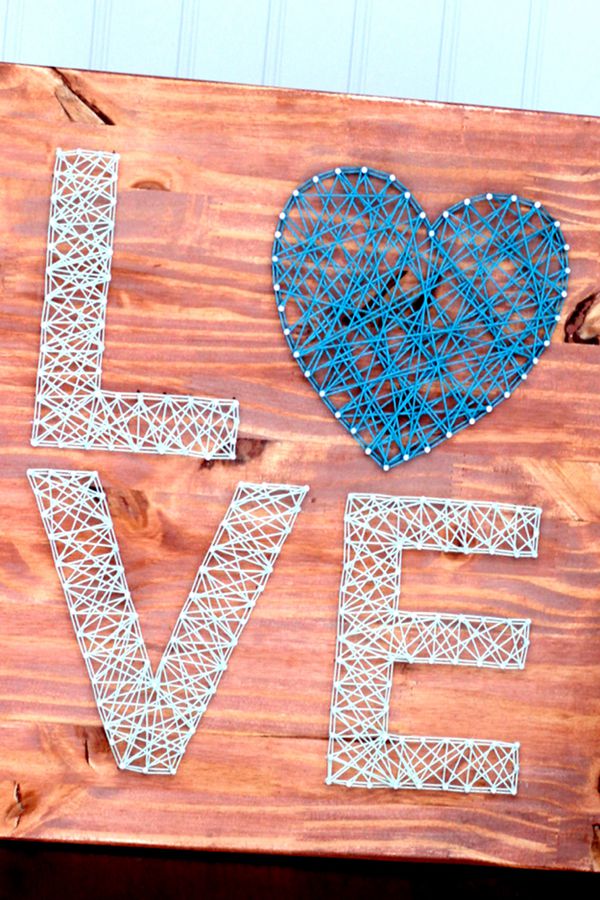 Get the Tutorial Here: Andrea's Notebook
One look at this project, and you'll know exactly why people love string art so much. Colors can be customized to match any decor you desire.
7.Wine String Art Kit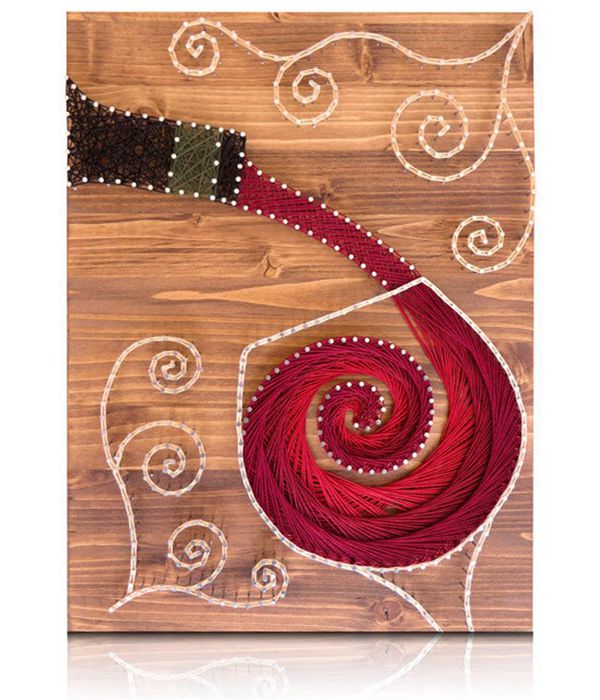 Get the Tutorial Here: String of the Art
Too busy to make a trip to the craft store for all your supplies? Take a look at this all-in-one kit to complete a piece commemorating your love of all things wine.
8.Easter Bunny String Art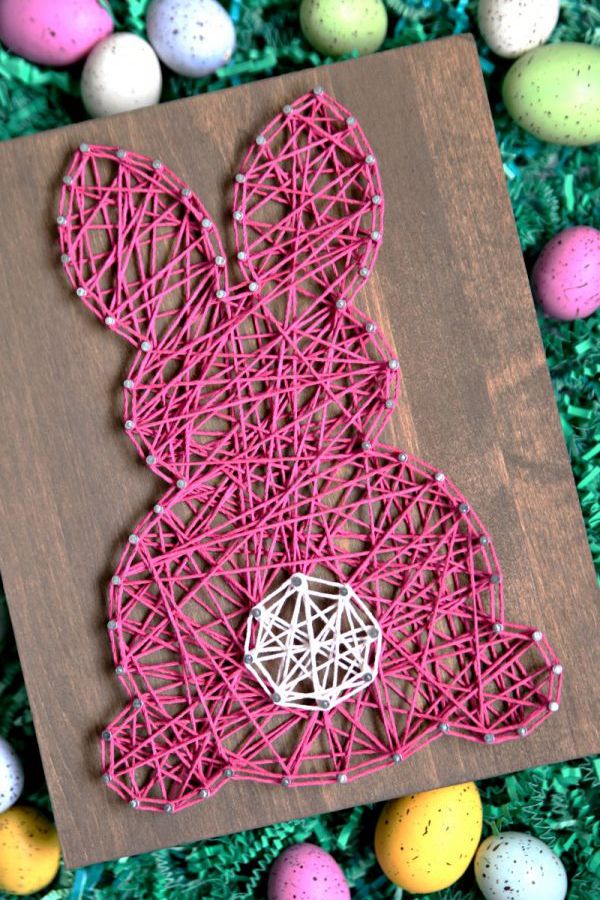 Get the Tutorial Here: Happy Go Lucky Blog
Looking to add some Easter decor to your home? This Easter Bunny string art project includes an easy-to-follow tutorial.
9.Shamrock String Art
Get the Tutorial Here: The Kim Six Fix
Top o'the morning to you! Use copper and zinc finished nail heads to create this festive token of good luck.
10.Fox Name String Art Board
Get the Tutorial Here: Just the Right Price
Personalize this foxy find with your kiddo's name. It makes a such great decoration for their room.
11.Home Sweet Home String Art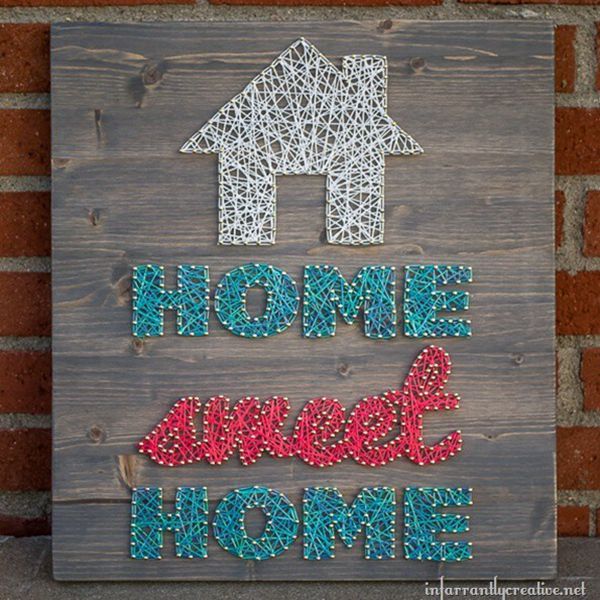 Get the Tutorial Here: Infarrantly Creative
This large piece will certainly take some time, but the finished product will be well worth it. Choose colors to match your home decor.
12.Wisconsin State String Art
Get the Tutorial Here: Crafts by Amanda
If you have any Packers fans in your family, this green and gold creation is probably one their Christmas list. Go, Pack, go!
13.DIY Mason Jar String Art Tutorial
Get the Tutorial Here: Chaotically Yours
Are you looking sg for something simple that can be made a little bit more elaborate? This beginner-level mason jar tutorial is a perfect find.
14.Cork Board String Art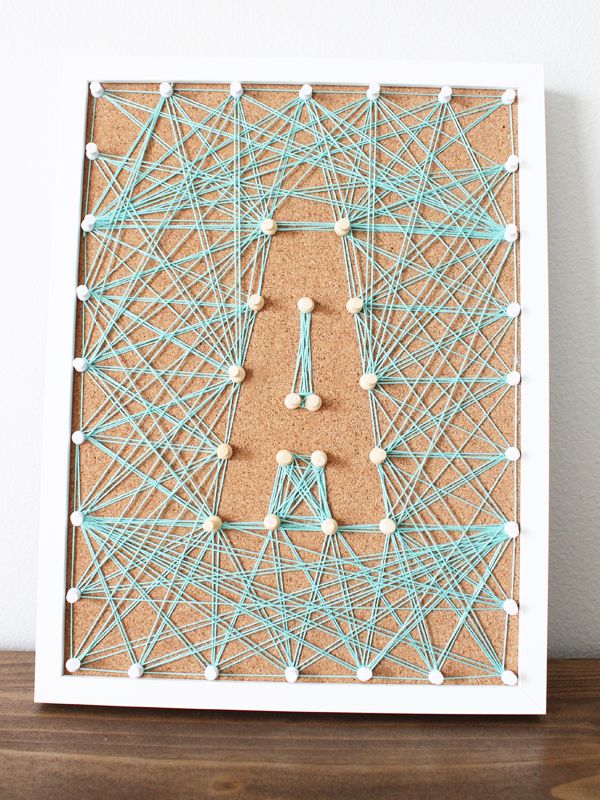 Get the Tutorial Here: My Sister's Suitcase
If you're not interested in hammering away at tons of tiny nails, check out this cute cork board. This project utilizes tiny wooden push pins found at any local craft store.
15.Love String Art Tutorial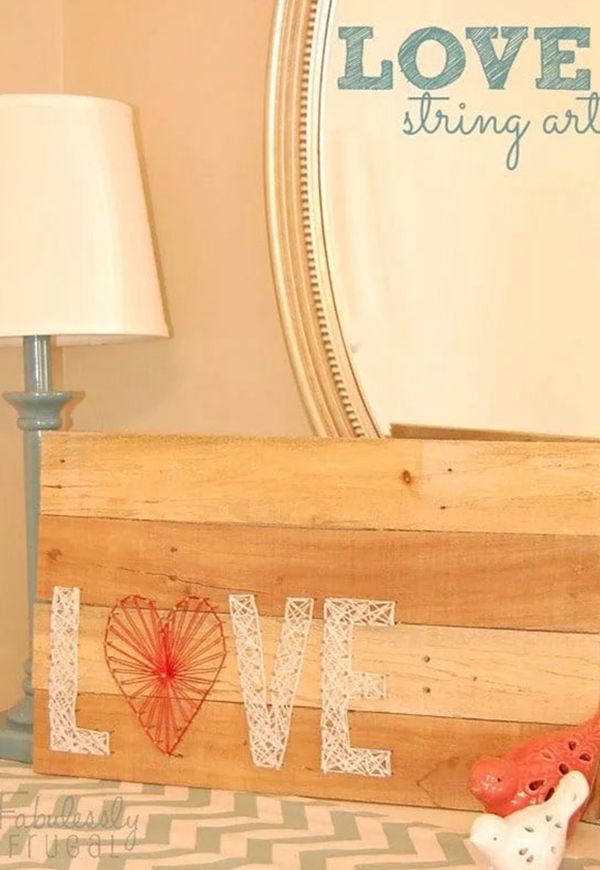 Get the Tutorial Here: Fabulessly Frugal
Using a pallet board and red string, this is a project that leaves you with a one-of-a-kind Valentine's Day keepsake that won't break the bank.
16.Birth Date String Art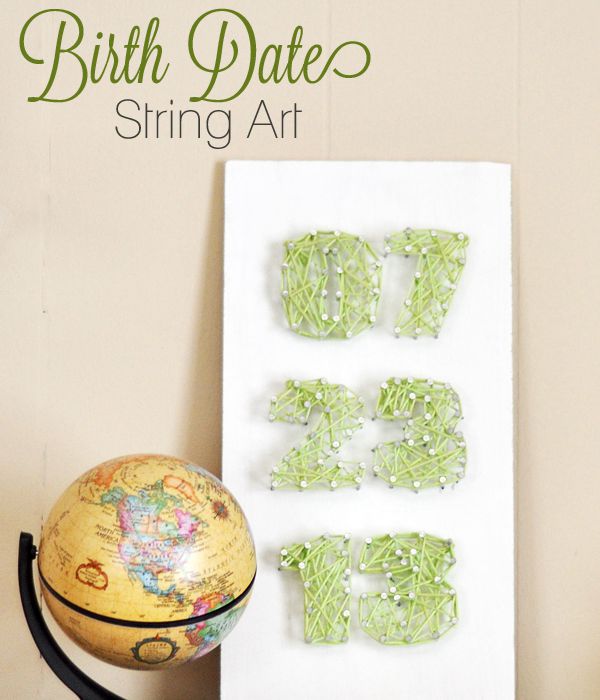 Get the Tutorial Here: Love Grows Wild
What a great personal touch to add to your little one's room. This birth date string art project can uses craft wood that can be found at any craft store.
17.DIY String Art Ice Cream Cone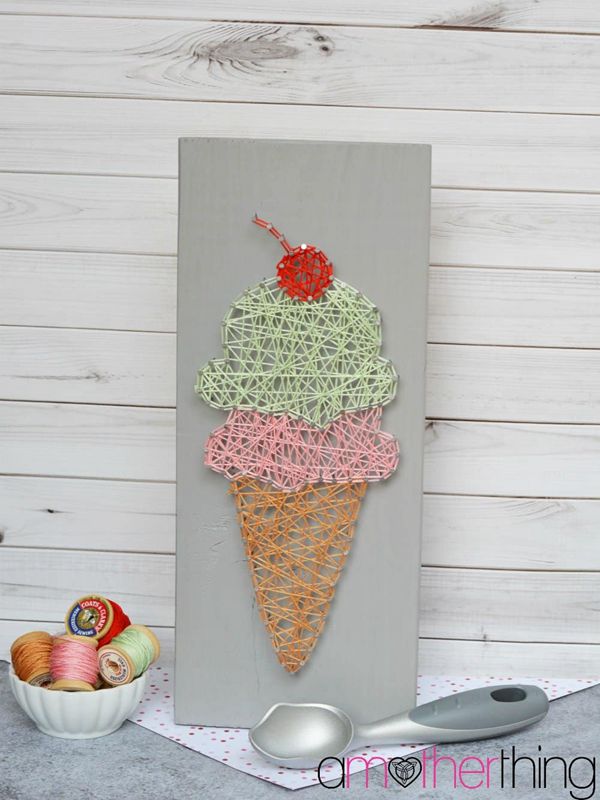 Get the Tutorial Here: It's a Mother Thing
Yum! Using pastels to match your home will make this custom piece the cherry on top of your home decor.
18.Any State Any City String Art
Get the Tutorial Here: AB Underwood Co2
There's no place like home! This custom piece can be made to represent any city in any state. What a great gift for that special someone who may be missing home.
19.String Art Otis Owl
Get the Tutorial Here: Nine Red
Who who who wouldn't love Otis the Owl hanging on their wall? He makes a great addition to any home, and no one gives a hoot what color you make him.
20.Elephant String Art
Get the Tutorial Here: A Crafted Passion
You certainly won't forget to hang up your colorful new elephant string art. Use small nails and embroidery floss to get started.
21.Wall Editions String Art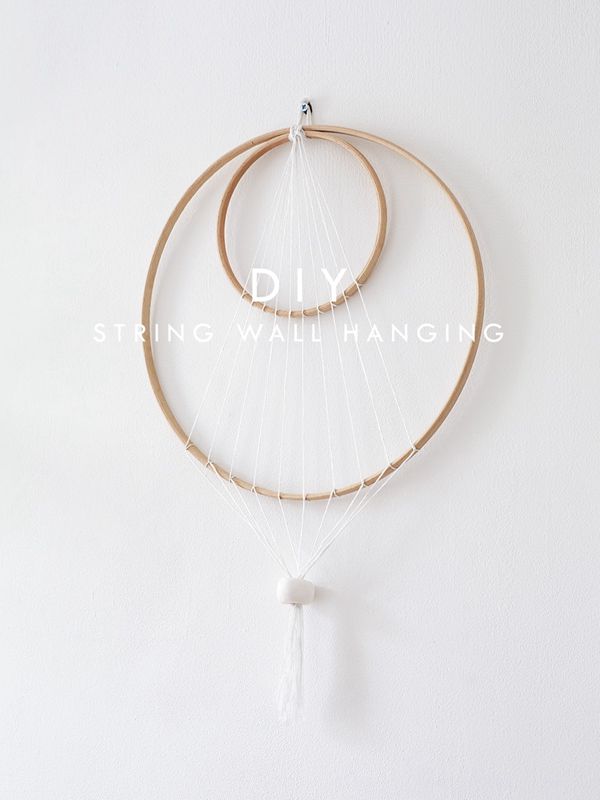 Get the Tutorial Here: The Lovely Drawer
This minimal piece with a dream catcher feel is a perfect, simple piece to adorn any wall in your home. It requires very few materials and can be assembled quickly.
22.Pineapple String Art
Get the Tutorial Here: Crafting Chicks
Say aloha to this sweet piece of string art. This project will help you to bring a bit of tropical flare into your home.
23.DIY String Art Wall Decor
Get the Tutorial Here: Look What I Made
All you'll need to get started on this custom piece is a board, tape, nails, and thread. You can even get fancy and burn the board for a rustic look.
24.String Art Reindeer
Get the Tutorial Here: Clean and Scentsible
Oh deer! Check out this beyond adorable reindeer head. It's perfect to hang as a holiday decoration or to give your home a country cabin feel.
25.DIY Antler String Art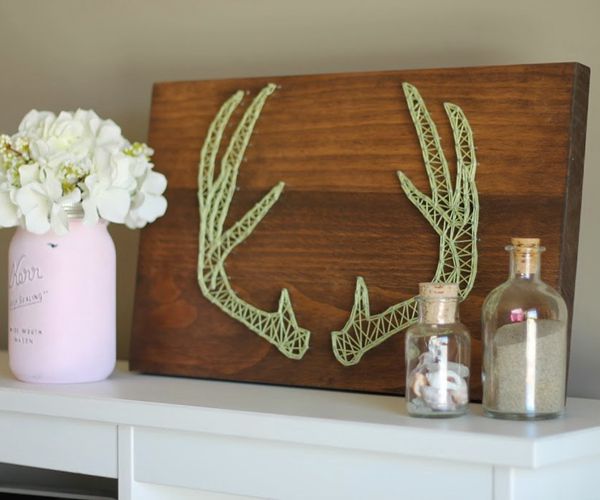 Get the Tutorial Here: Messes to Memories
Are you looking to add a rustic feel to your home? Look no further than antler art! Sure to give a cozy cabin vibe while hanging over the fireplace.
There are so many string art options to choose from, it may be tough for you to decide where to begin. Make a gift for a friend? Create a piece to use as a holiday decoration? Or perhaps make a home decor piece that you can hang and admire each and every day? When it comes to string art, there are so many fun possibilities.
Once you decide what type of string art piece you'd like to make, it's time to head to a local craft store or home improvement center to get things started. Whether you're using prefabricated wooden slabs or reclaiming wood from old pallets, you'll be on your way to a day of crafting and creating. Have you tried any of these string art projects? Please share these links to spread the inspiration. Don't string us along! Leave us a comment and let us know which of the above string art options is your personal favorite.