Hunting for rocks? I can dig it! Collecting, painting, and sharing rocks is a fun new trend that families can enjoy together. Rock painting crafts give us a great reason to spend time scouring nature with our little ones to select just the right rock and then turning those findings into little mineral masterpieces.
Whether you are looking for some clever options to celebrate any holiday, or you are just interested in having some plain old everyday fun with the family, take a look at these great rock painting craft projects below to start planning a night of crafting fun for both you and your little ones.
1.Lady Bug Rock Art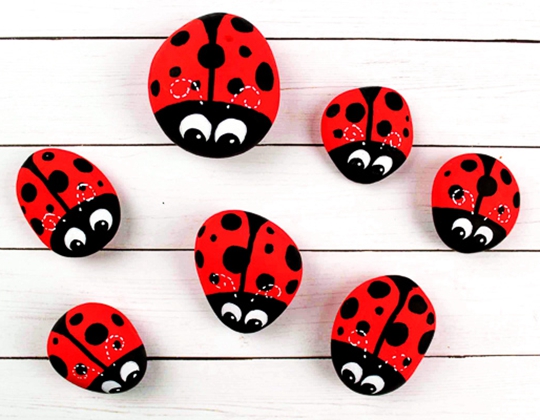 credit & tutorial: Simple Everyday Mom
Look at these adorable painted ladies! Though these can be created using acrylic paints, paint pens are recommended for beginners. When completed, you can even add some Mod Podge to add sheen. And don't forget the googly eyes!
2.Owl Painted Rocks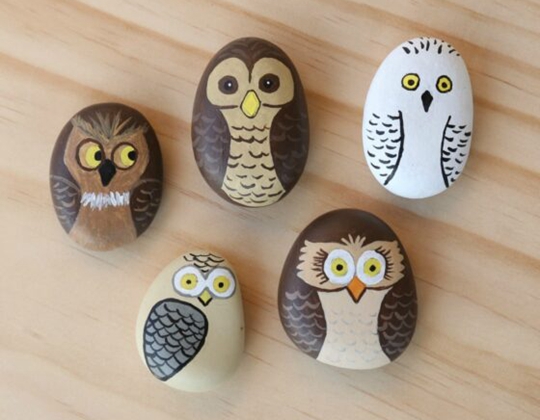 credit & tutorial: Frugal Fun for Boys and Girls
From snowy ones to the more whimsical, who who who doesn't love these adorable owls? Get started with brushes and acrylic paints. Finish up with a coat of varnish.
3.Easy Painted Mouse Rocks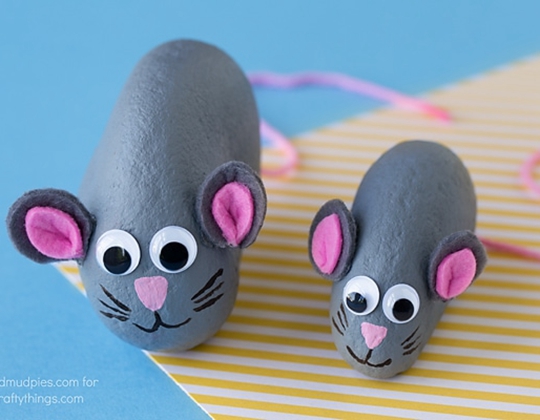 credit & tutorial: i Heart Crafty Things
Get the hot glue gun ready, and don't forget the wiggly eyes and pink yarn tail. These painted mice are perfect for hiding out in nature as a sweet treasure for another fellow rock hunter to find.
4.Pet Cactus Rocks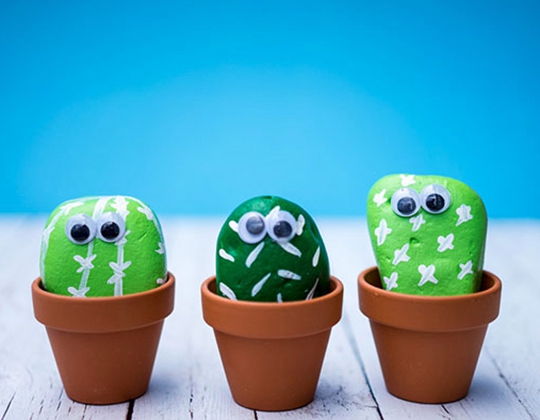 credit & tutorial: Crafty Morning
A perfect piece without the prickle! Grab some mini terra cotta pots and find some rocks to fit. Instead of a glue gun, the little ones can use glue dots to give each cactus a google eyed finish.
5.Silly Stone Faces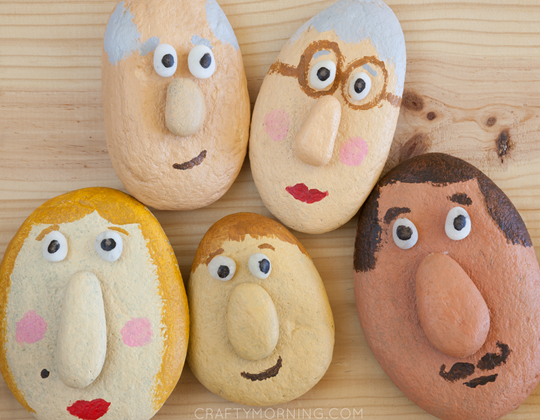 credit & tutorial: Crafty Morning
There is no end to the fun faces you can dream up with these silly stone faces. Paint stones of all sizes to look like your favorite celebrity, or you can make one to resemble each member of your family.
6.Rock Stone Crocodile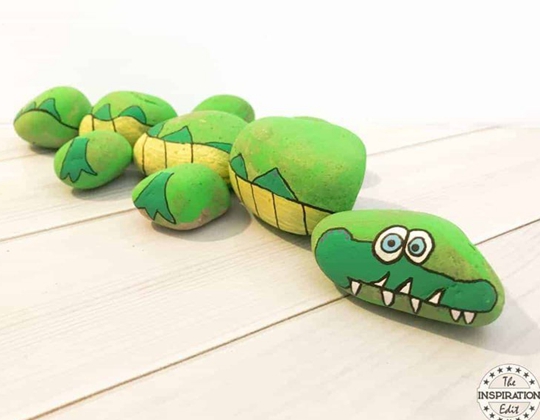 credit & tutorial: The Inspiration Edit
You'll need a variety of green paints, paint brushes, paint pens, and a number of different sized rocks to create this croc. The finished crocodile would make a great, fun addition to any garden.
7.Stone-Cold Shark Painted Rocks
credit & tutorial: Sustain My Craft Habit
Flat, triangle-shaped rocks work best for these sea-themed stones. These will put such a smile on your face that the sharks won't be the only one who is showing off a toothy grin.
8.Vintage Camper Painted Rocks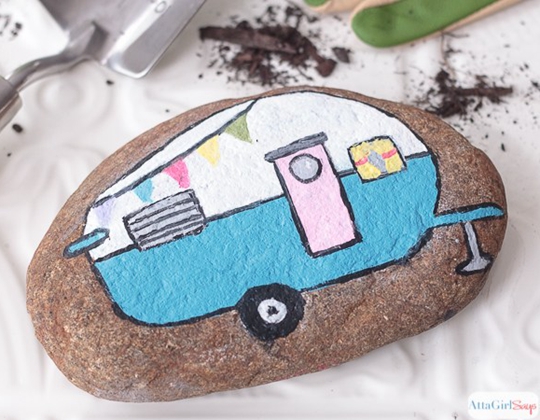 credit & tutorial: Atta Girl Says
Can't grab a sleeping bag and head outdoors? Well these adorable vintage camper rocks will give you a chance to bring the outdoors into your home. Flat river rocks and acrylic paints in a rainbow of colors are all you need to be a happy camper.
9.Bee Painted Rocks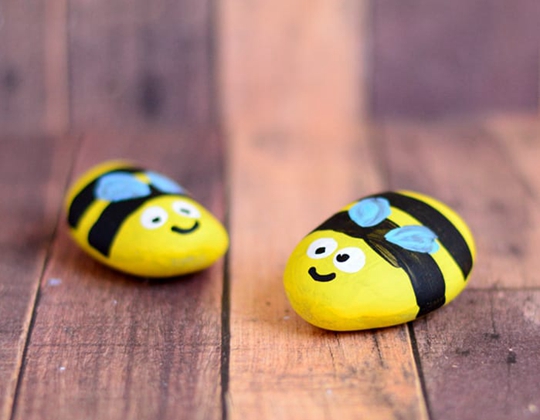 credit & tutorial: Easy Peasy and Fun
Not only are these bumble bees just the best, but your little ones will have a ton of fun painting them and leaving them for other rock hunters to find. Take a look at these and see what the buzz is about.
10.Minions in Jail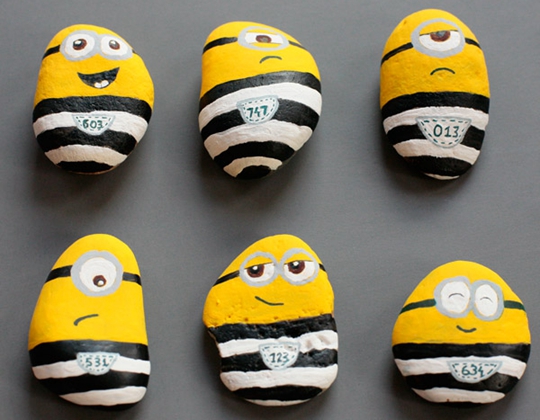 credit & tutorial: Non Toy Gifts
Do you love Minions? Then you'll love painting oval-shaped rocks to mimic the Minions in their jail uniforms. Can't find enough river rocks around? Buy a bag of polished rocks from your local craft store.
11.Cute Rock Fish Craft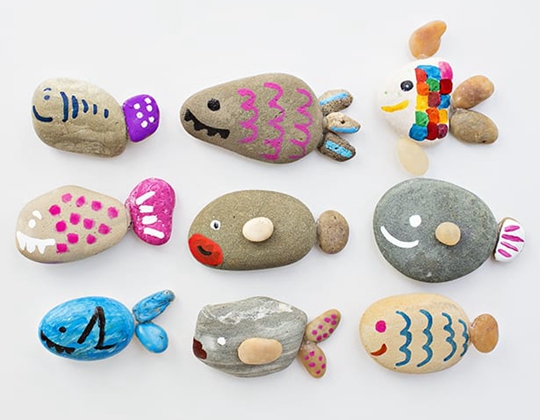 credit & tutorial: Hello, Wonderful
This project is a great way to make use of a variety of sizes of stones. Make them simple or make them scaley. All it takes are paints, brushes, and hot glue.
12.Painted Minion Rocks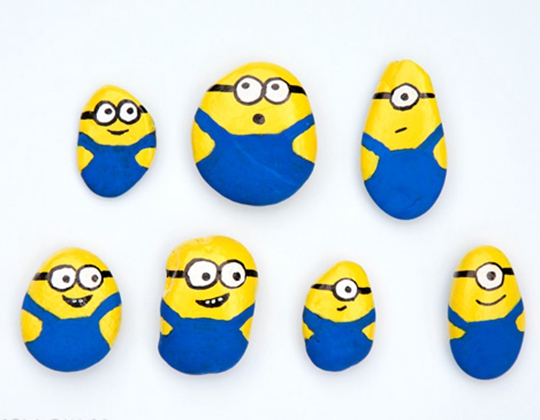 credit & tutorial: Non Toy Gifts
More Minions! Oval-shaped river rocks and, of course, yellow paint will get you started on making your mineral Minion. This version has the Minions in their overalls ready to get to work.
13.Pebble Painting with the Molotows
credit & tutorial: Isabelle Kessedjian
These snug stones are painted to look like they are wrapped in their blankets and ready for bed.
14.Toy Story Alien Rock Painting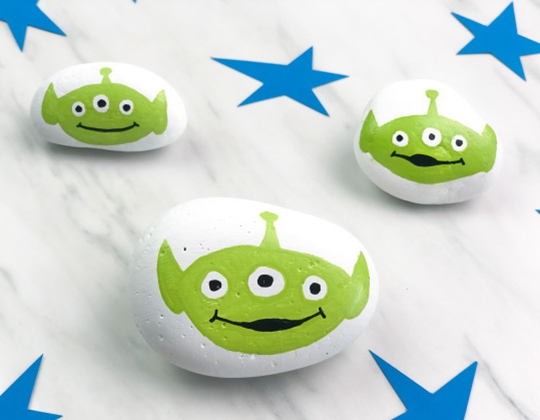 credit & tutorial: Simple Everyday Mom
Any Toy Story fan will get a kick out of these adorable aliens. Start with smooth rocks and pencil, and use paint brushes and pens to design this three-eyed friend.
15.Strawberry Painted Rocks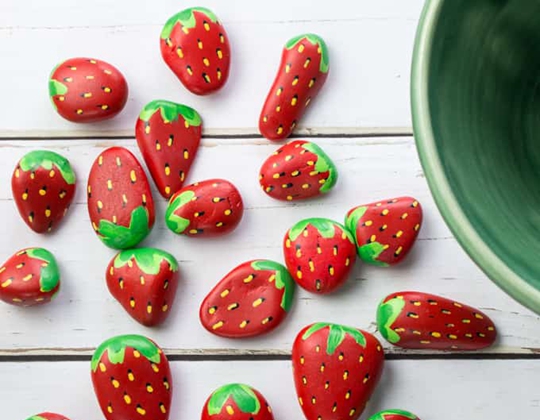 credit & tutorial: Crafts by Amanda
Strawberry stones? Sweet! These fruit-shaped rocks sure do look good enough to eat. They will make a great addition to your garden or a great find to leave behind for a fellow rock hunter.
16.Painted Chick Easter Rocks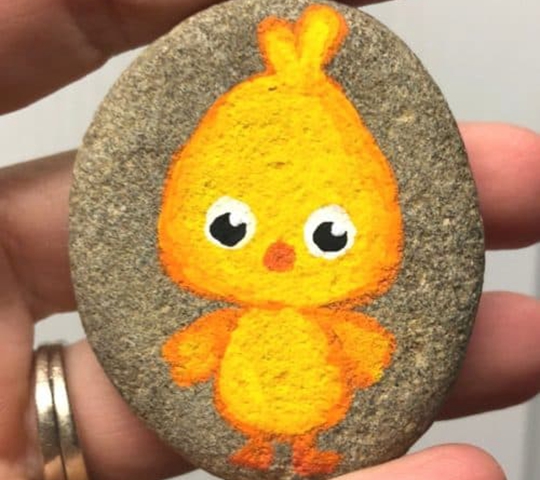 credit & tutorial: Rock Painting 101
These charming chicks are beyond fun to make. Flat rocks and paint pens are perfect for this Easter basket bauble.
17.Kawaii Candy Corn Halloween Painted Rock
credit & tutorial: I Love Painted Rocks
Trick or Treat! You'll need some flat, triangular rocks to create these Autumn favorites. This one is simple and perfect for the beginning rock painter.
18.Colorful and Cheerful Flower Painted Rocks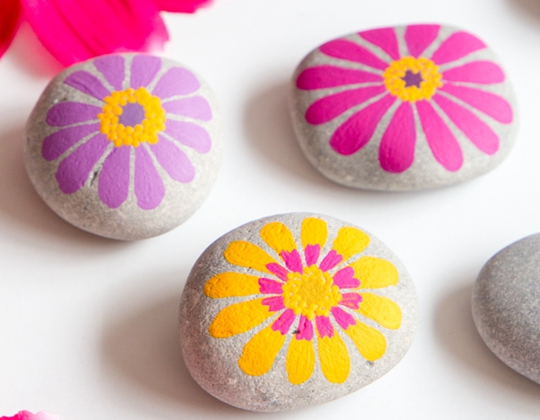 credit & tutorial: Sustain My Craft Habit
Looking for a colorful way to use your river rocks? This craft is sure to put your boulders in bloom. Add these painted daisies and sunflowers to your garden for a splash of sunshine.
19.Zombie Halloween Painted Rocks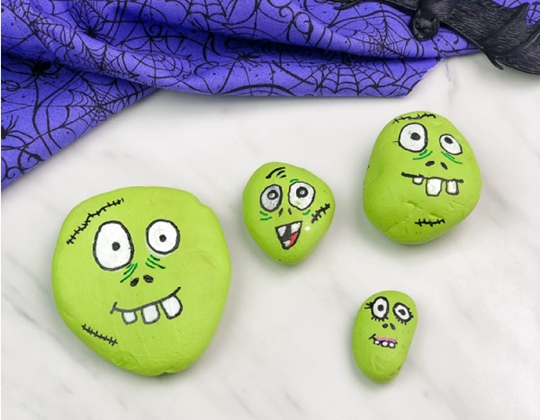 credit & tutorial: Simple Everyday Mom
These green goblins are too much fun to be scary. That makes them age appropriate and the perfect Halloween project for kids of all ages.
20.Olympic Flag Rocks Craft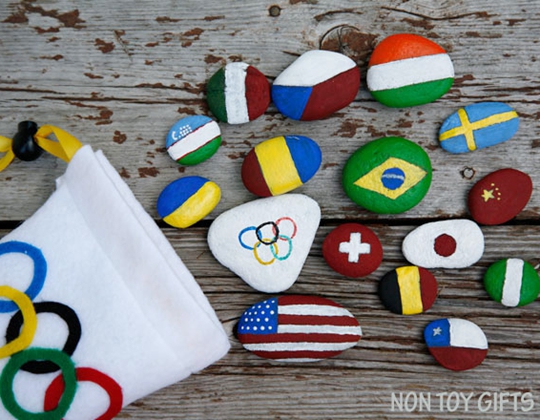 credit & tutorial: Non Toy Gifts
Want an activity that is sure to give you and the family Olympic fever? These adorable flag rocks are also a great teaching tool.
21.Watermelon Painted Rocks
credit & tutorial: Projects with Kids
It's hard not to have tons of fun while decorating these rocks to look like a favorite summertime treat. Get started with any shape rock, acrylic paints, pens, and brushes.
22.Rock Painting Bunny Rabbit
credit & tutorial: Ruffles & Rain Boots
Hop on over to this link to check out all the different bunny rabbit rock painting ideas. A perfect pebble to include on your Easter egg hunt!
23.Fish Painted Rocks
credit & tutorial: I Love Painted Rocks
Easy paint techniques make this a great craft for beginners. Give your fish some flash by adding some googly eyes and painting with glitter.
24.Tic Tac Toe Rocks
credit & tutorial: Run Wild My Child
Once these rocks have been painted with Xs and Os, then fun is only just beginning. Use your newly painted rocks to play tic tac toe and teach strategy and motor skills to your kiddos.
25.Painted Rock Art
credit & tutorial: Typically Simple
Gather a variety of paints and pens to get started on adding your own creative flare to the finds from your latest rock hunt. Simple and easy for all ages.
The painted rock possibilities are many! All of the above options are not only easy and colorful but a creative way to pass the time with the kids that encourages them to get outdoors and gather some gravel.
You may have many options when rock hunting just outside your home, or you might plan to make a trip outdoors with the kids to see what rock treasures are out there just waiting to be found. Whether your rock hunting travels take you to places near or far, painting rocks will create some colorful keepsakes to give as gifts, leave outdoors for others to find, or keep for yourself to enjoy and admire. Of course the best part of any craft project is the time spent and the fun had. Which of these painted rock crafts have you tried? Be a rock start and share these great craft ideas, and leave us a comment below.