Popsicle stick crafts are not just for the summertime. Whether it is cold outside, or you are hoping to beat the heat, using some pleasant popsicle sticks to create crafts as a family is indoor fun for any time of the year.
Are you looking for some options to celebrate a holiday, or you are just interested in having some plain old everyday fun with your family? Take a look at the list of popsicle crafts for kids and get started on a day of crafting fun for both you and your little ones.
1.Craft Stick Harmonicas
credit & tutorial: makeit-loveit
With these sonic sticks, the fun doesn't stop once these are made. It takes only two craft sticks, a toothpick, some small rubber bands, and a strip of paper to create these harmonicas that the kiddos will no doubt enjoy playing with for days to come.
2.Easy Christmas Tree Ornament
credit & tutorial: gingersnapcrafts
Get out the buttons and bows! The kids will love seeing their holiday-themed creation hanging from the family's Christmas tree. Don't forget to make a few extra to give as gifts.
3.Weaving Cute Baby Turtles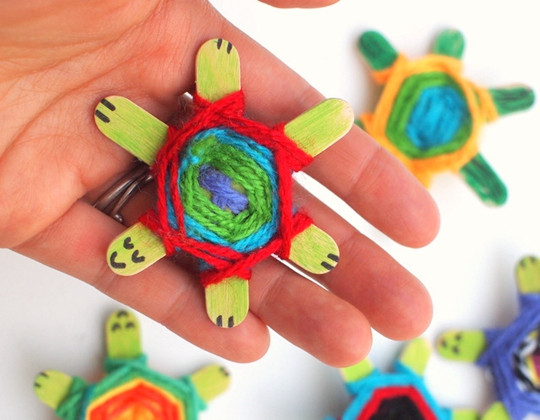 credit & tutorial: pinkstripeysocks
Using popsicle sticks and colorful yarn in a God's Eye pattern, the kiddos will enjoy creating turtles in every color of the rainbow. This one is sure to get even shy kids out of their shells.
4.Valentine's Day Popsicle Bookmark Craft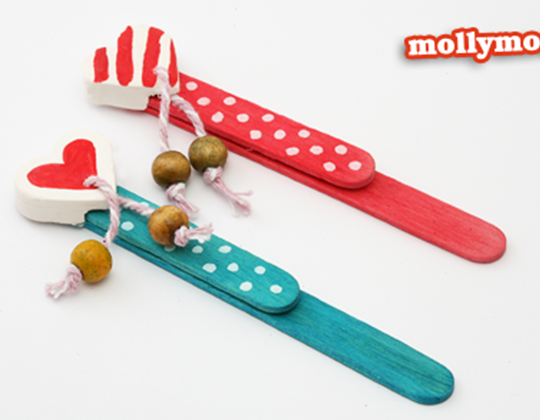 credit & tutorial: mollymoocrafts
These Valentine's Day crafts are both fun and functional. This project uses sculpting clay to create handmade hearts and is adorned with beads. The final product also makes a great gift.
5.Craft Stick Airplane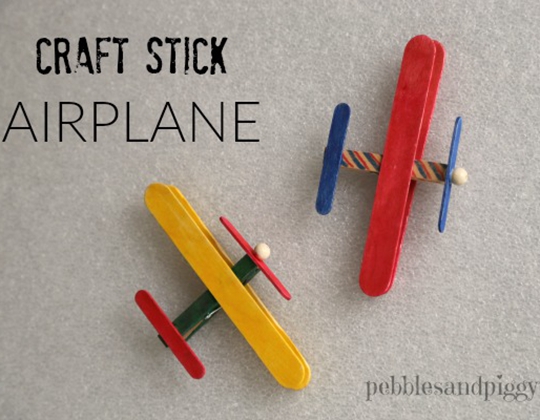 credit & tutorial: makinglifeblissful
Zoom! Whether you paint them red, white, and blue for the 4th of July, or in a rainbow of colors to create a refrigerator magnet, these adorable planes are simple for kids of all ages. Everyone is guaranteed to have a blast.
6.Popsicle Stick Dragonfly Craft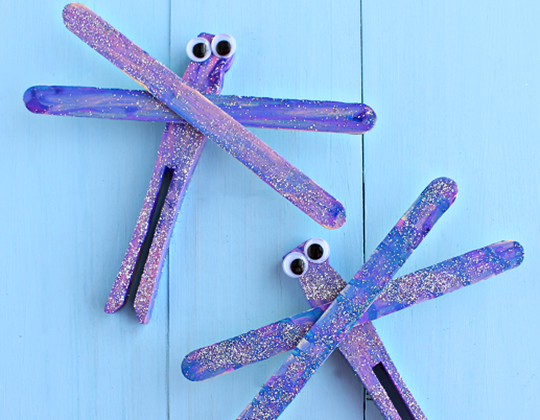 credit & tutorial: craftymorning
Some days we just need a little extra sparkle. Glitter paint and googly eyes get you started with these designer dragonflies.
7.Craft Stick Farm Animals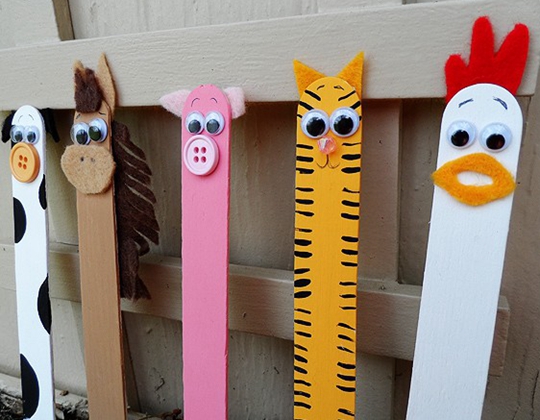 credit & tutorial: craftsbyamanda
Cock-a-doodle-doo to you! These farm animals featuring cute piglet and pony popsicles are almost as adorable as the real thing. Get started with some buttons and wiggly eyes.
8.Popsicle Stick Painted Chick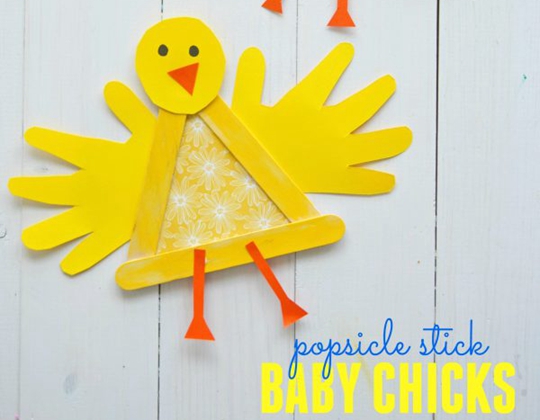 credit & tutorial: makeandtakes
This springtime-themed kid craft is a wonderful way to incorporate those little handprints. It makes for a great keepsake to admire one day when those kids aren't so little anymore.
9.Popsicle Stick Catapults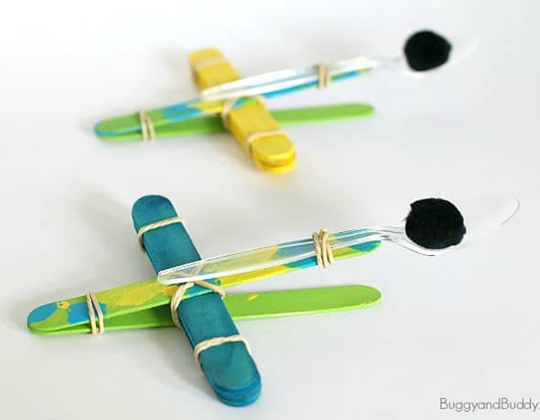 credit & tutorial: buggyandbuddy
Is your little one into science, technology, engineering, and math? If so, this STEM project is absolutely perfect for them. Gather some sticks and get to work with your curious kid.
10.Popsicle Stick Monsters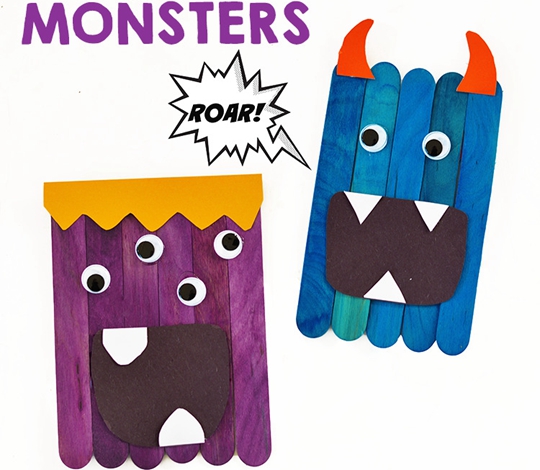 credit & tutorial: iheartartsncrafts
Perfect for Halloween! Your little monsters will have such a great time creating these little monsters with glue, googly eyes, and colored paper.
11.Folding Popsicle Stick Fans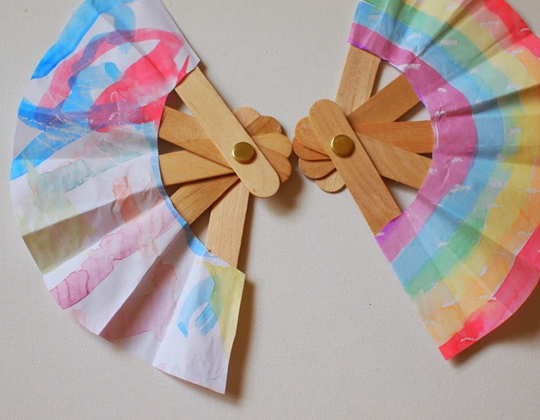 credit & tutorial: pinkstripeysocks
Are you a fan of keeping cool? Then get ready for this little fan to put the FUN in functional! Break out the watercolors to decorate and the paper fasteners to secure your sticks into place.
12.Craft Stick Crocodile Craft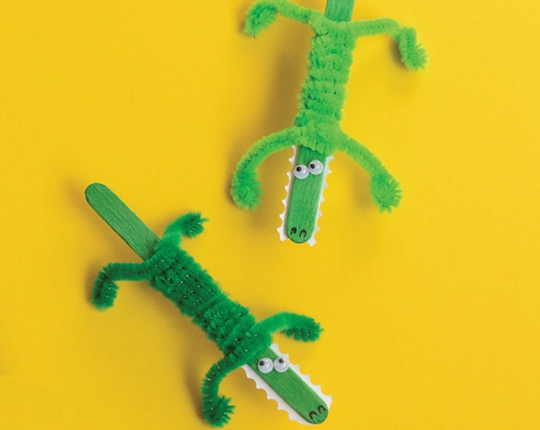 credit & tutorial: easypeasyandfun
After a while, crocodile! Popsicle sticks and pipe cleaners will get you started on your way to making a cute crocodile craft. These croc critters are so much fun to make and will create even more fun when the kids play with them.
13.Toy Soldier Christmas Ornaments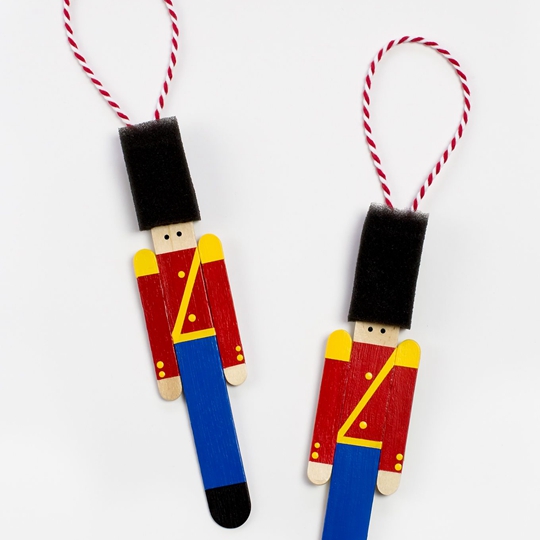 credit & tutorial: firefliesandmudpies
Attention! These fine soldiers are festive and colorful. Hang your army on the tree for the kids to enjoy all Christmas season.
14.Popsicle Stick Bee Craft
credit & tutorial: iheartcraftythings
Are you wondering what all the buzz is about? Check out these beautiful bumble bee crafts using sticks, pipe cleaners, and googly eyes.
15.Mix and Match Articulating Snake Craft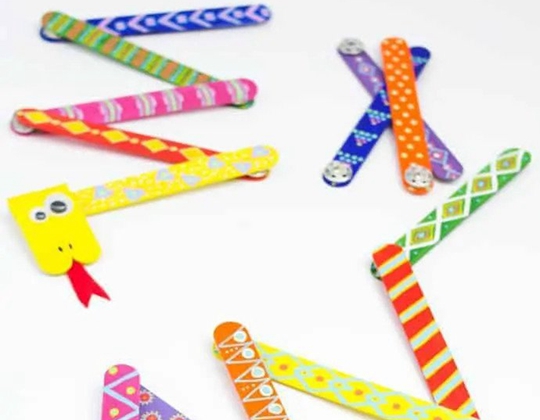 credit & tutorial: kidscraftroom
This is a simple, snazzy snake craft that slithers! Your kiddos will have ssssssuch a good time playing and creating their slick new toy.
16.Popsicle Stick Boxes for Easter and St. Patrick's Day
credit & tutorial: pinkstripeysocks
Grab the glue, the sticks, paint pens, and a little imagination. These functional pieces make great gifts that can be enjoyed all year long.
17.Woven Craft Stick Butterfly
credit & tutorial: thecrafttrain
Another craft that would make a great handmade gift. These butterfly beauties are made of yarn, pipe cleaners, and beads.
18.Craft Stick Chicks
credit & tutorial: redtedart
This quick chick is not only simple to make but also fast. Check out this five minute craft to do with your favorite littles ones this Easter season.
19.Monster and Unicorn Popsicle Stick Craft
credit & tutorial: hellowonderful
Do you prefer a whimsical unicorn or a silly monster? Whatever your style, these cute creatures are a great way to spend a rainy day indoors as a family.
20.Craft Stick Robot
credit & tutorial: iheartcraftythings
Beep. Bop. Boop. The only thing these charming robots will be taking over is our play time.
21.Popsicle Stick Ballerinas
credit & tutorial: gluedtomycraftsblog
The tiny dancer in your life will love these ballerinas in their graceful, glued getups. They are such a wonderful way to repurpose old, undused cupcake holders.
22.Quick Craft Stick Bracelet
credit & tutorial: mollymoocrafts
What a great craft for playdates or summer camps. The kids can make one to wear or even one to give as a gift of friendship.
23.Popsicle Stick Christmas Ornament
credit & tutorial: craftsmeetkids
Do you see what I see? This quick how-to shows your kiddos how to make three different types of Christmas tree ornaments. Hang them in your home or present as a gift to the grandparents.
24.Popsicle Stick Easter Craft
credit & tutorial: thebestideasforkids
Your kids will have a blast decorating these beautiful bunnies. This sweet Easter-themed craft is sure to get the creativity hopping. Don't forget that pompon for the nose!
25.Popsicle Stick Flower Craft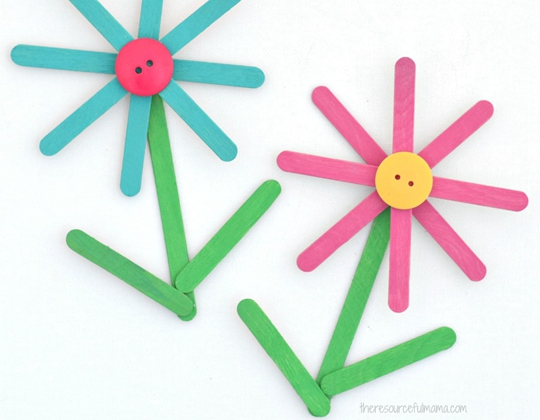 credit & tutorial: theresourcefulmama
It may not be the Spring season where you are, but these bright blooms can bring those Spring colors into your home. Sticks and buttons are all you need to begin.
The popsicle stick craft options are plentiful! The options listed above are not only easy and colorful but also a fun way to pass the time indoors with your little ones while fostering a love of crafting.
Eating so many popsicles may seem like an overwhelming, yet delicious, task. Don't you worry! The local craft store will have you covered. Take a trip with the kids and see the variety of sizes and colors of popsicle craft sticks available for use in your crafting. Of course the best part of any craft project is having fun together as a family. Stick with these ideas, and you're sure to have a good time. Have you tried any of these popsicle stick crafts with your family? Please share these great craft ideas, and leave us a comment with your favorite popsicle stick craft below.