We may not have the option to scour the sandy beaches for some of its salty treasures this time of year, but that certainly doesn't mean we can't incorporate the siren song of the sea into some fun, do-it-yourself crafts with the kids. Making handmade seashell crafts with the family is a great way to pass time while not only creating memories but creating special, handmade keepsakes as well.
Whether you are looking for some clever holiday options, or you are just looking for some plain old everyday fun, take a look at these great seashell craft projects below, and start planning a night of crafting fun for both you and your little ones.
1. Santa Claus Shell Christmas Ornament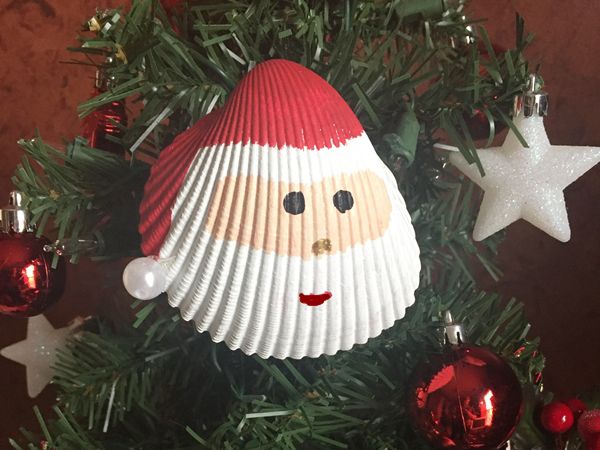 Photo credit: Across the Boulevard
Shells, dish soap, and some acrylic paints are all that you will need to get started on this simple project. Turning Santa Clause into this colorful conch is a fun way to bring a reminder of those warm, sandy beaches to your family's Christmas tree.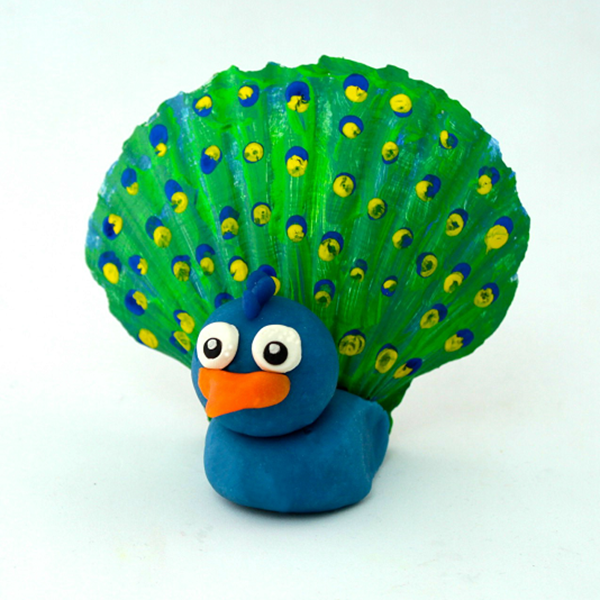 Photo credit: Crafty Morning
For a non-holiday themed option, this project is not only fun but simple as well. In addition to spending time crafting with the kiddos, you'll end up with a memento that leaves you proud as a playdough peacock!
3. Shell People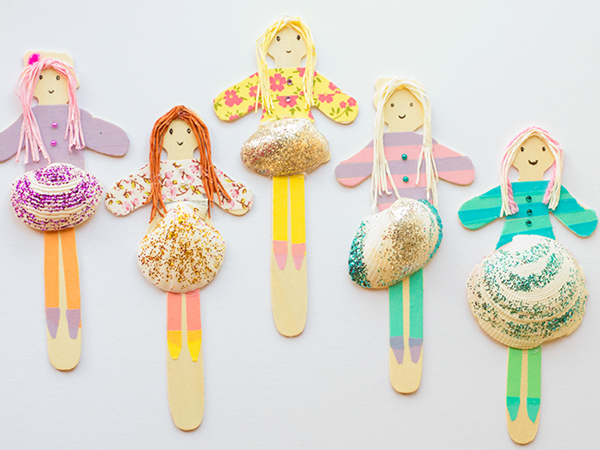 Photo credit: Let's Do Something Crafty
These fun and adorable shell people are the perfect way to make use of the shells collected on your last trip to the beach. Decorate them with stickers, glitter, and string to match any style you can imagine. Once completed, the kids will have a sweet toy to remind them of their time at the beach.
4. Seashell Art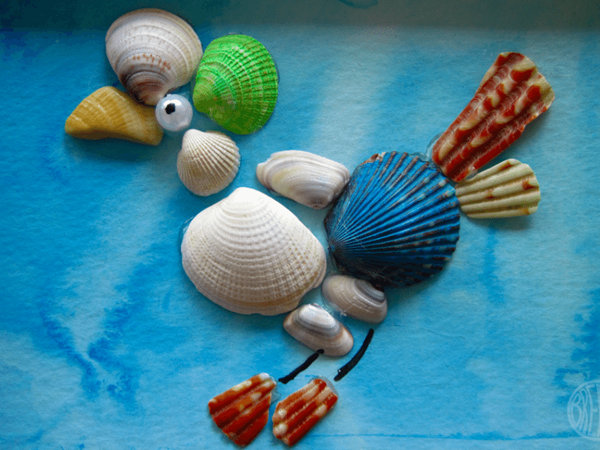 Photo credit: Alpha Mom
This 3-D art piece makes a great gift. The finished item can be kept to admire year round or framed and gifted to someone you love to share the memory of your summer on the sand.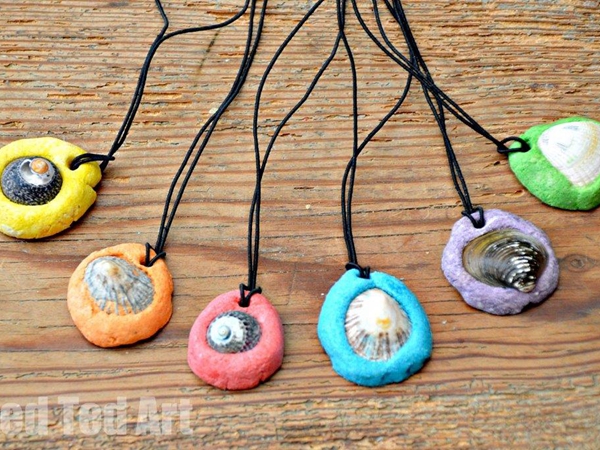 Photo credit: Red Ted Art
Red? Yellow? Blue? Making salt dough in a variety of colors is simple and fun. You can dry your pendants in the oven or in the sunshine. Wear them all year to take a trinket from the beach with you wherever you go.
Photo credit: Crafts by Amanda
Get the hot glue gun and the googly eyes! This colorful craft makes use of a variety of seashell sizes. No beaches nearby? Not a problem! Your local craft store will have plenty of seashells options to choose from.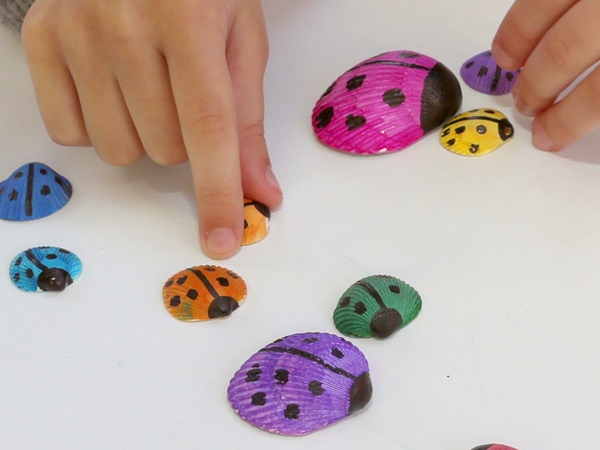 Photo credit: Still Playing School
All those seashells that the little ones collected this summer are the perfect shape for this beauty of a bug. Use red watercolor to paint a spot-on lady, or get creative and paint a rainbow of ladybugs.
Photo credit: Red Ted Art
A few pipe cleaners, a variety of paints, and some PVA glue will get you started on creating this creepy yet cutesy crawly! Place your finished project on the fridge for the family to enjoy everyday.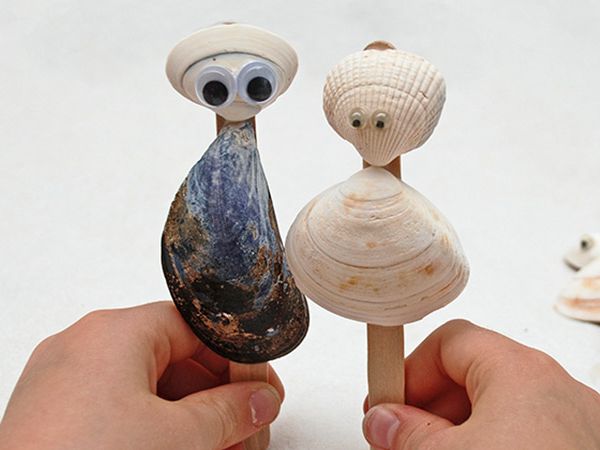 Photo credit: Blue Bear Wood
Not only are these puppets just precious, but your little ones will have a ton of fun playing with a new toy that they had a hand in creating.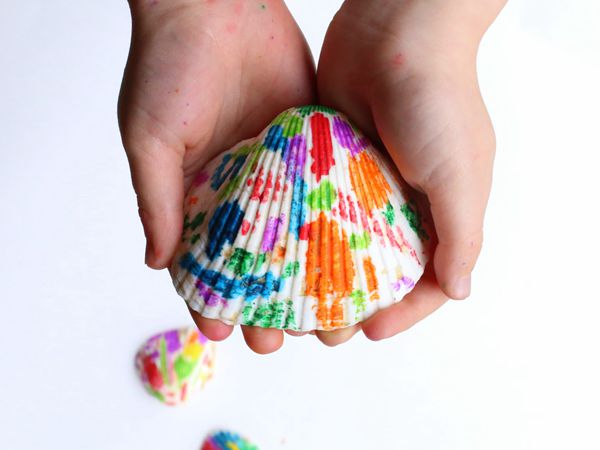 Photo credit: Fun at Home with Kids
Similar to melted crayon rocks, these vibrant seashells are just as much fun to make. Use melted crayons, or get creative and try glitter crayons for a fun twist with some extra sparkle.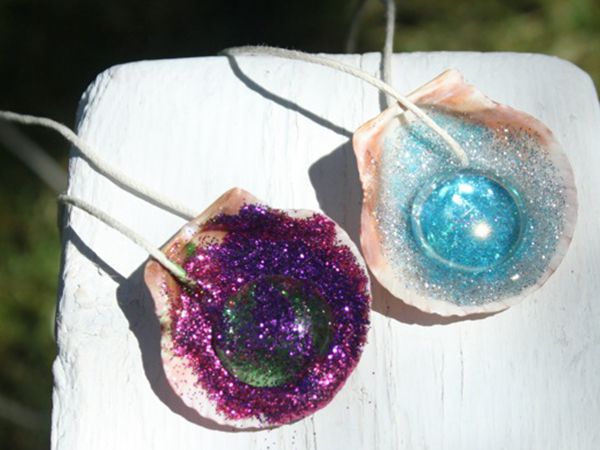 Photo credit: Mama Papa Bubba
These sparkly necklaces are a great way to display your seashells for all to see. Colorful glass gems and a variety glitter glues help make this the perfect wearable trinket that's fit for a mermaid!
12. Santa Claus Seashell Christmas Ornament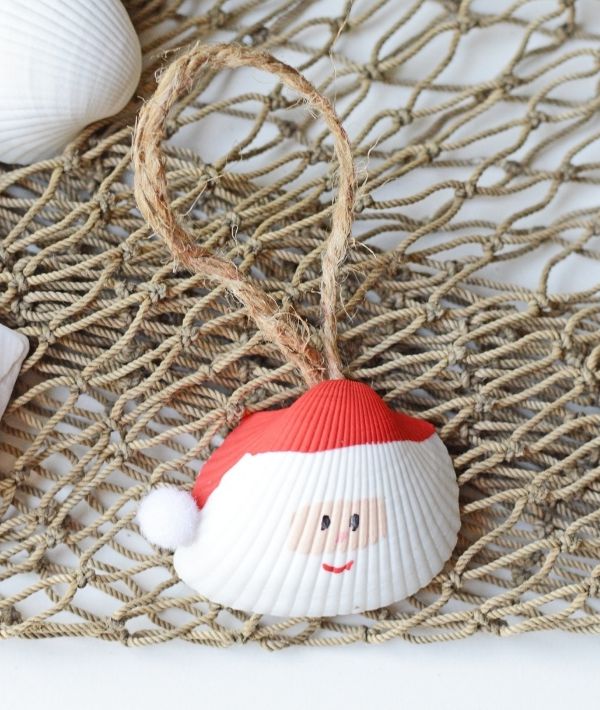 Photo credit: Down Redbud Drive
Gather your paint, the hot glue, and some brushes to get your shells into the Christmas spirit. This ornament uses ribbon or twine to help you hang your seashell-turned-Santa proudly on the family's tree.
13. Painted Seashell Christmas Ornaments
Photo credit: Color Made Happy
Paint pens, puff balls, and pendant hangers will help you create these colorful Christmas ornaments. Add creative designs or use lettering to easily include your favorite festive phrases.
Photo credit: Crafts by Amanda
Make colorful creatures to play with or create a sea scene in any theme you can imagine. With paint and air-dry clay, create turtles and clams that your littles ones can enjoy and play with all year long.
Photo credit: Glued to my Crafts
Another take on Seashell Santa Claus! You can use anything from cotton balls, paper plates, and construction paper to create your seashell St. Nick. These are a fun reminder of the warm beach during the holiday season.
16. Seashell Angel Christmas Ornaments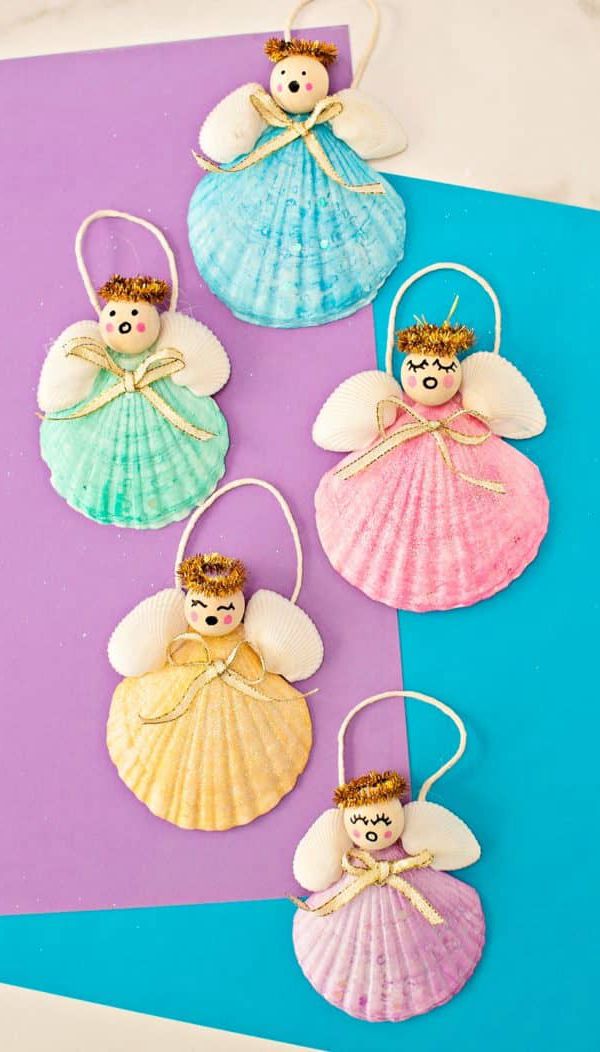 Photo credit: Seashell Angel Christmas Ornaments
Hark! These handmade Christmas ornaments are both colorful and fun. Scallop-style shells in a variety of sizes are used to create these sweet spirits to add some whimsy to your Christmas tree.
17. Painted Seashell Accessories
Photo credit: Polka Dot Chair
Are you looking for a way to display your beachcombing finds every day of the year? Try creating these adorable accessories using everyday items such as hair accessories and nail polish. These make a great trinket to keep for yourself or give as a handmade holiday gift.
Photo credit: Having Fun at Home
These pencil holders are a great way to repurpose those old tin cans and make a fun item that is fit for any classroom or even for the office. A variety of sizes of scallop-shaped shells in any color can be used to create this piece that is not only functional but a whole lot of fun.
Photo credit: Mother Natured
Use homemade or store-bought playdough to create your favorite critter! In addition to instructions, this site also explores how to make your own shells out of playdough to teach the kiddos the shape and purpose of shells. It's a project that is not only entertaining but educational as well.
20. Seashell Souvenir Photo Frame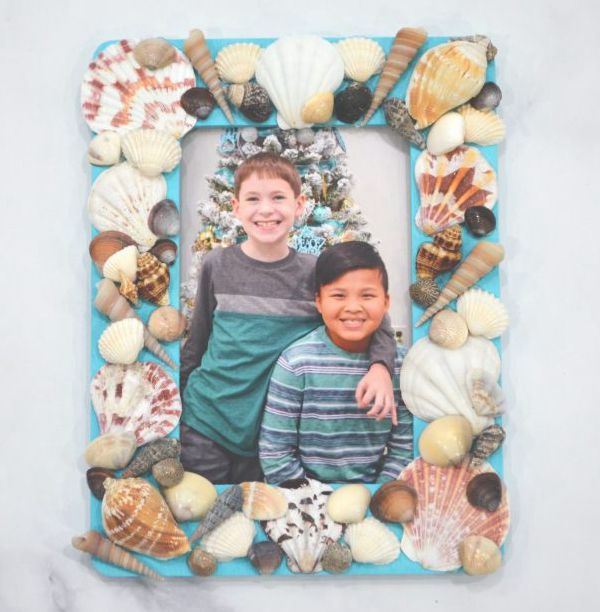 Photo credit: Amy Latta Creations
Just about any size wooden frame will do when making this gorgeous gift. Add some paint, glue your seashells, and add your favorite photo. Display in our home or give as a handmade present to teachers or grandparents.
The seashell craft possibilities are many! All of the above options are not only easy and colorful but a creative way to pass the time with the kids when outdoor options may be limited.
You may have a large sack of shells from scouring the warm beaches each summer, or you might plan to make a trip with the kids to purchase them at the local craft store. Either way, using your seashell souvenirs to create some colorful keepsakes is a great way to spend an afternoon. It doesn't matter if you plan to keep these trinkets to enjoy yourself or give them as gifts to family and friends. The important part of any craft project is the time spent and the fun had. Which seashell crafts have you tried? Please share these great craft ideas, and leave us a comment below that includes your favorite mussel memory.