It is safe to say that almost no one looks forward to doing laundry. Whether we have to spend our valuable time washing our wares or arguing with our teens to pitch in, laundry day is no picnic. It is a necessary chore that we all tend to put off until the last minute. Washing. Fluffing. Folding. Ironing. It is no wonder laundry day is often met with eye rolls and groans by busy moms.
Are you looking for a way to make that laundry room a place that you may want to visit a little more often? Here are some great ideas for laundry room shelving that will add some charm and cheer to one of our least favorite chores. Happy washing!
1.Anna DIY Laundry Room Shelving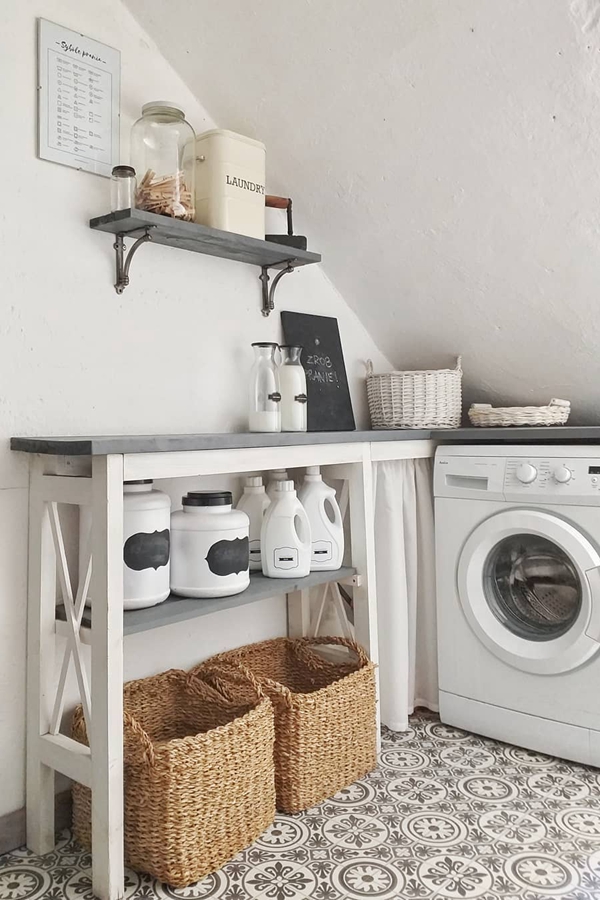 credit: @odinspiracjidorealizacji
Simple gray, white, and black are super trendy, and this clean-looking shelving idea will give your laundry room a hip, country cottage kick.
2.Wooden Laundry Room Shelving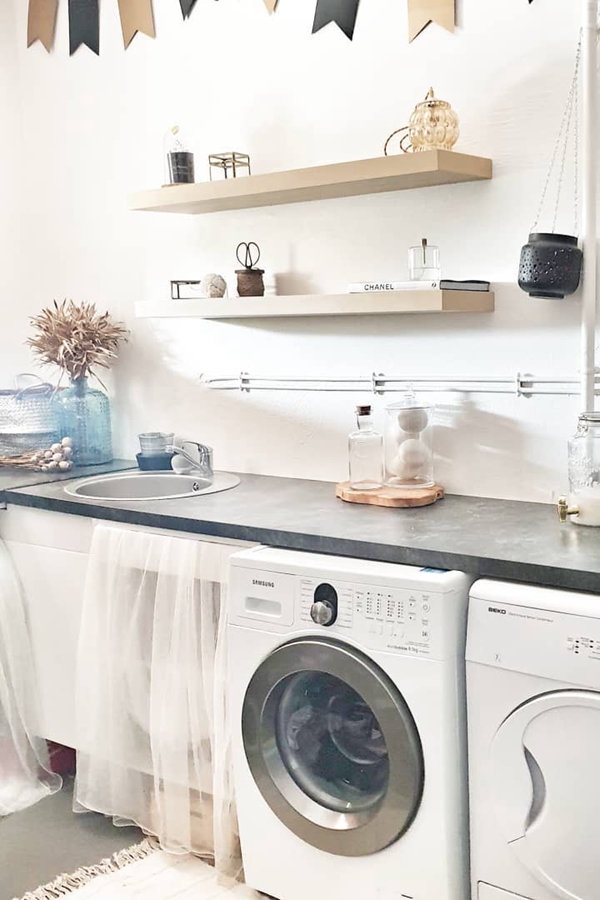 credit: @andrealuca83
Say bonjour to this adorable laundry room that has a French country feel. These sleek, wooden shelves keep it smart and simple. Is anyone else in the mood for a croissant?
3.Farmhouse Laundry Room Shelving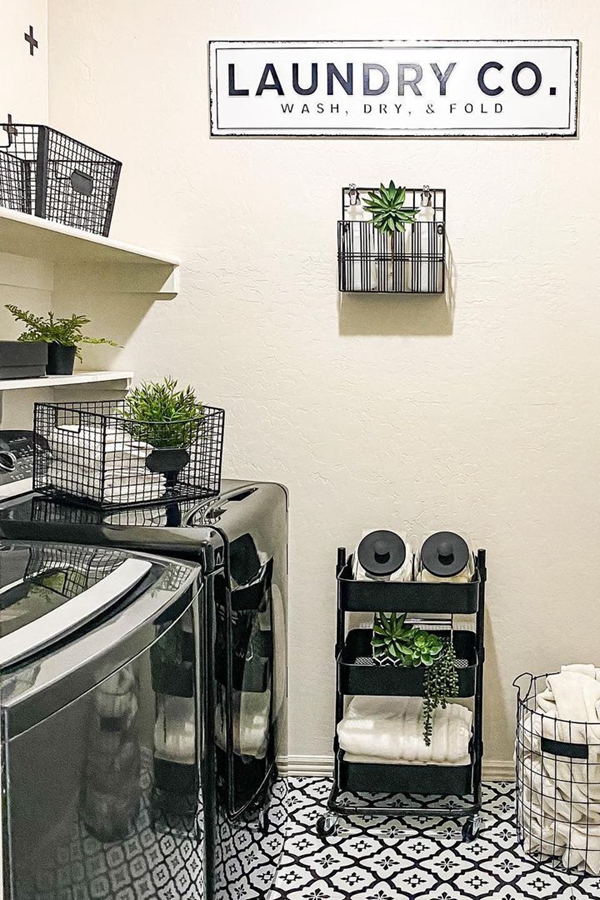 credit: @faith.farmhouse
In addition to the shelving that matches the fun flooring, this farmhouse laundry room has added extra storage to make it that much more functional.
4.Festive Laundry Room Shelves
credit: @BricksNBlooms
A touch of festive greens gives a holiday feel to this laundry room. The simple wooden shelves are a great place to hold some woven bins for additional storage.
5.Small Laundry Room Design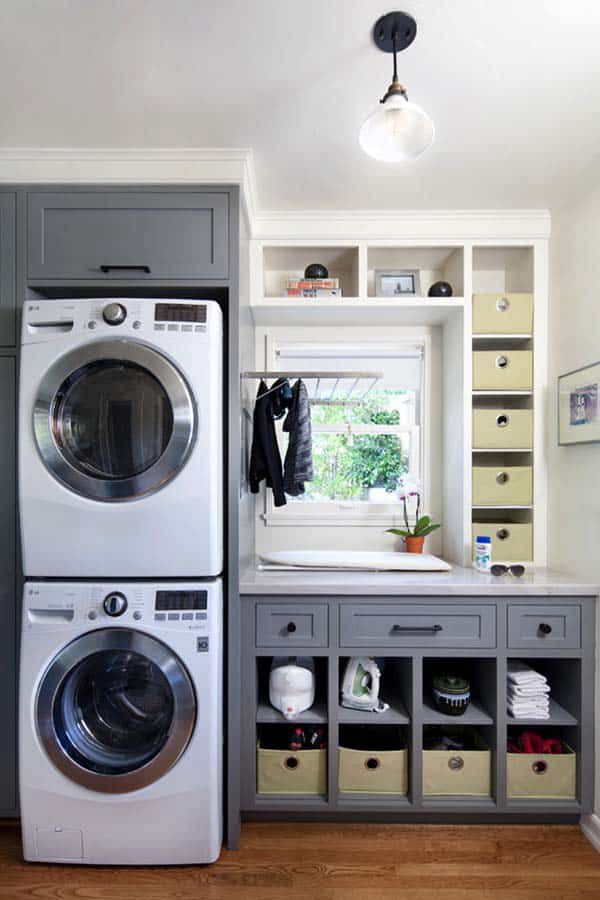 credit: The Internet
Make use of more of your space in smaller laundry rooms by making use of vertical space. The cloth storage cubbies can be found in any color to match your style.
6.Merry and Bright Laundry Room Shelves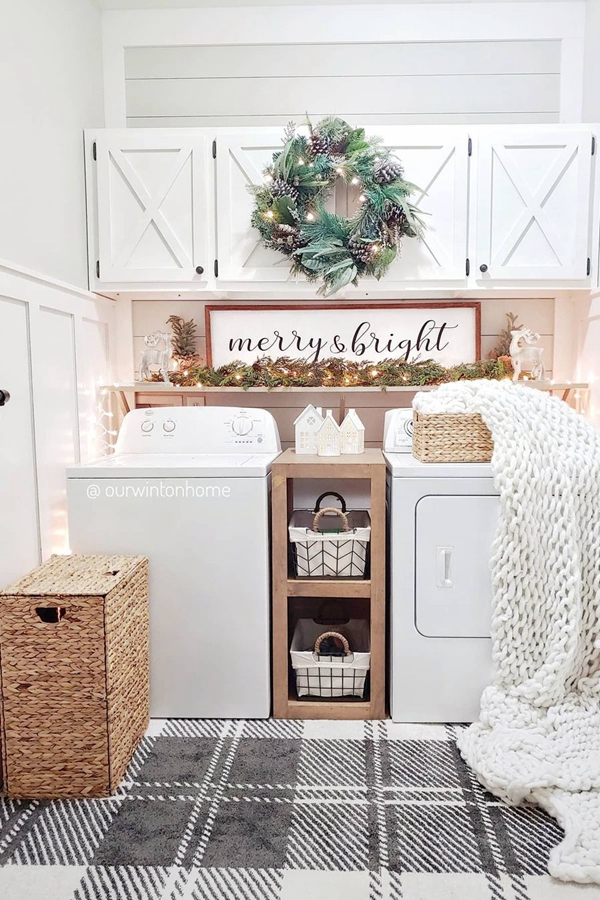 credit: Our Winton Home
Whose day wouldn't be merry and bright when you're doing laundry in this charming laundry room? The country cabinet doors are a great touch.
7.White Washed Laundry Shelves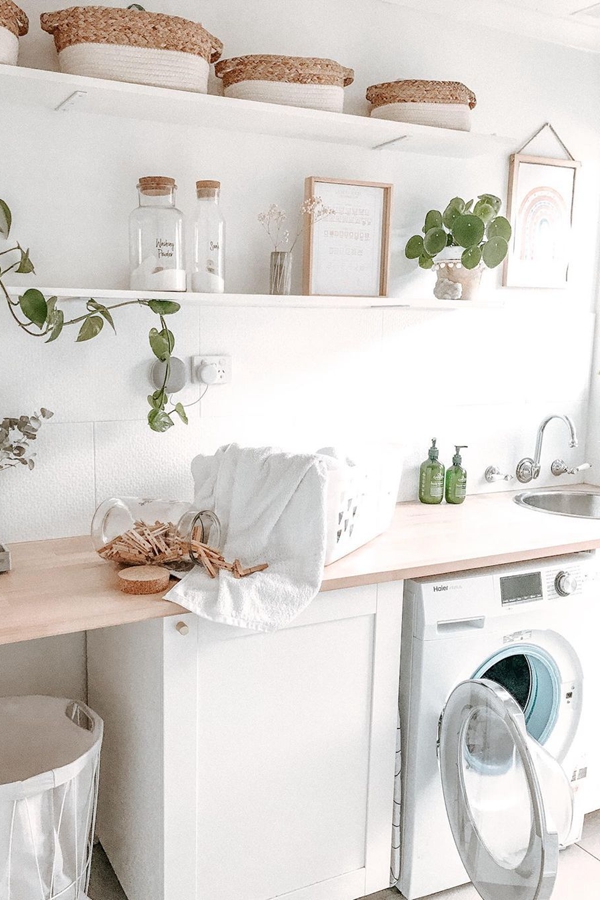 credit: The House that Jess Built
These crisp white shelves are both warm and welcoming as a home to some indoor greenery. They are a great way to add life to the laundry room.
8.Industrial Laundry Shelves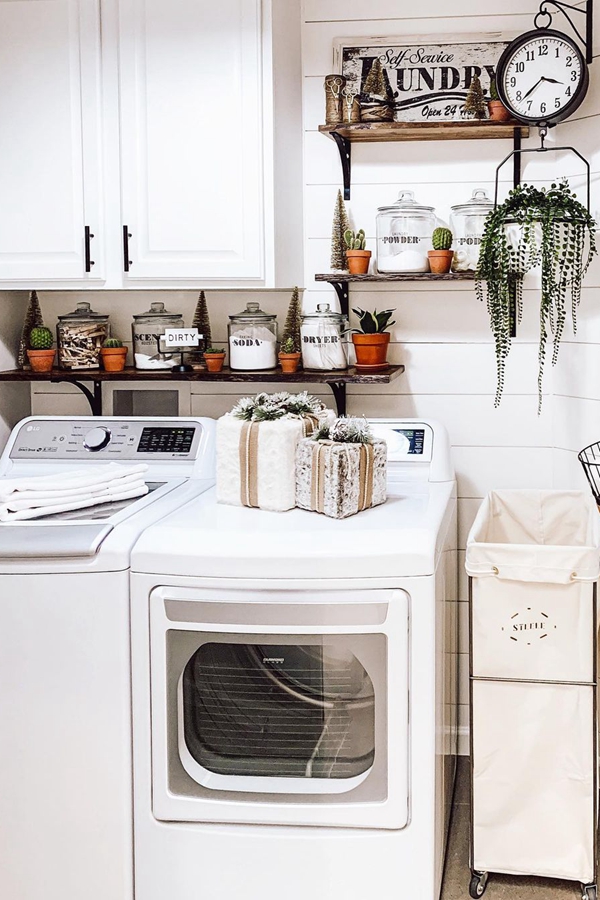 credit: Industrial Charm
The sturdy, metal brackets holding up these simple wooden shelves match perfectly with this laundry room's many metal accents and vintage signage.
9.Simple Wooden Laundry Shelves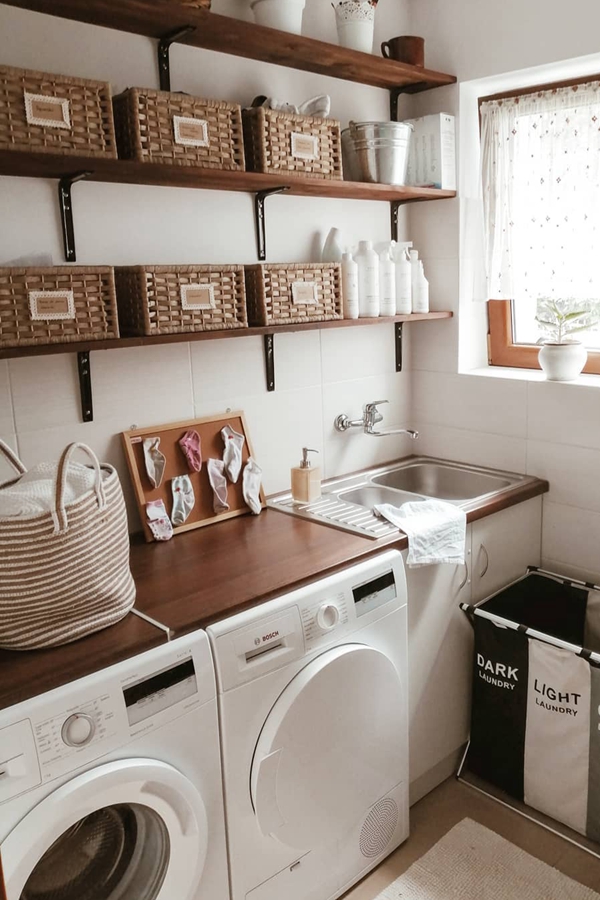 credit: @_hiltii_
You just can not go wrong with a simple wooden shelf on some sturdy metal brackets. These shelves make use of vertical space by being stacked three high to make room for any storage needs you may have.
10.White Laundry Shelves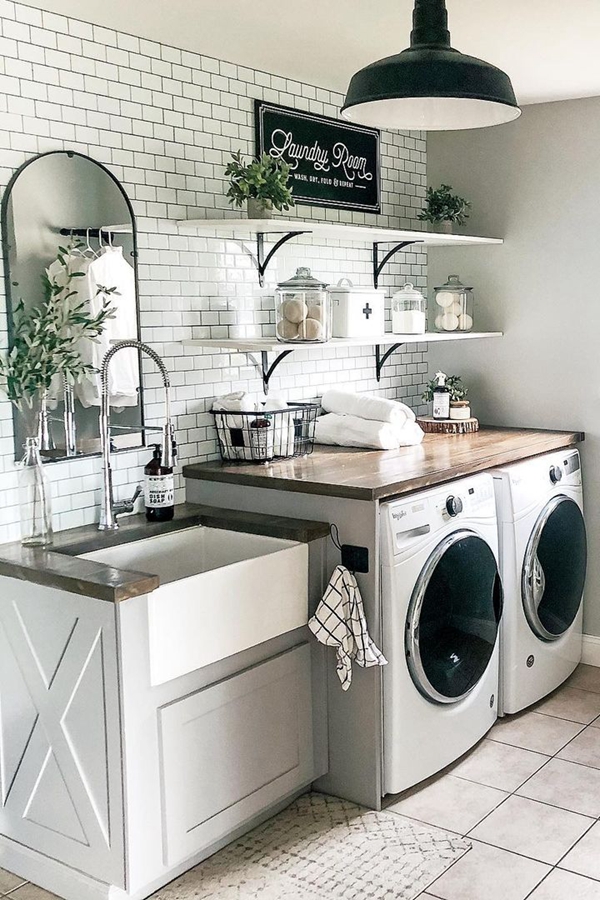 credit: Brie Marie
All aboard! These white laundry shelves look so sharp and sleek up against this subway tile accent wall in a bright, clean white.
11.Shelf and Tension Rod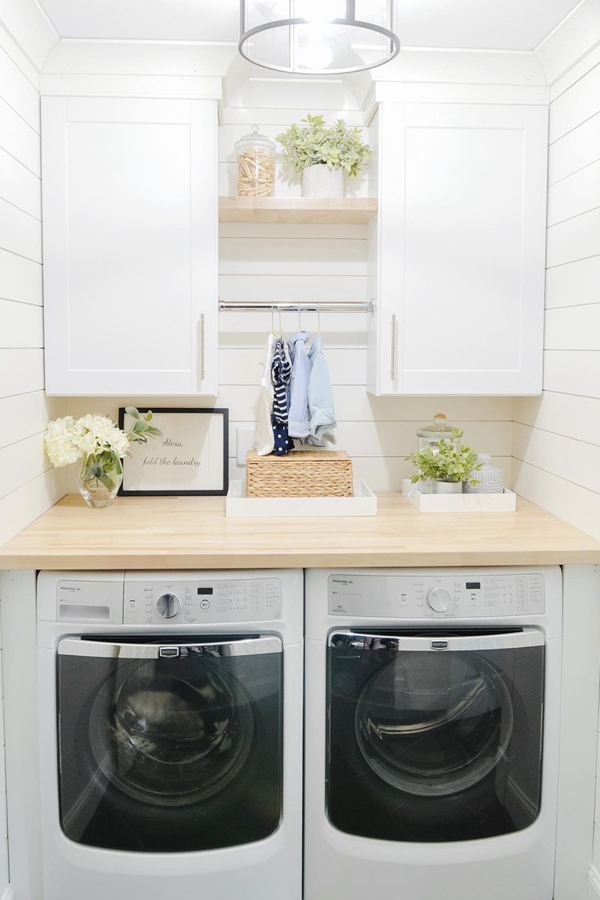 credit: Lindsey Meehan Designs
This light wood shelf adds some surface space for your house plants and other decorations. The tension rod is a great way to hang clothes after ironing.
12.Black Tension Rod with Wooden Laundry Shelf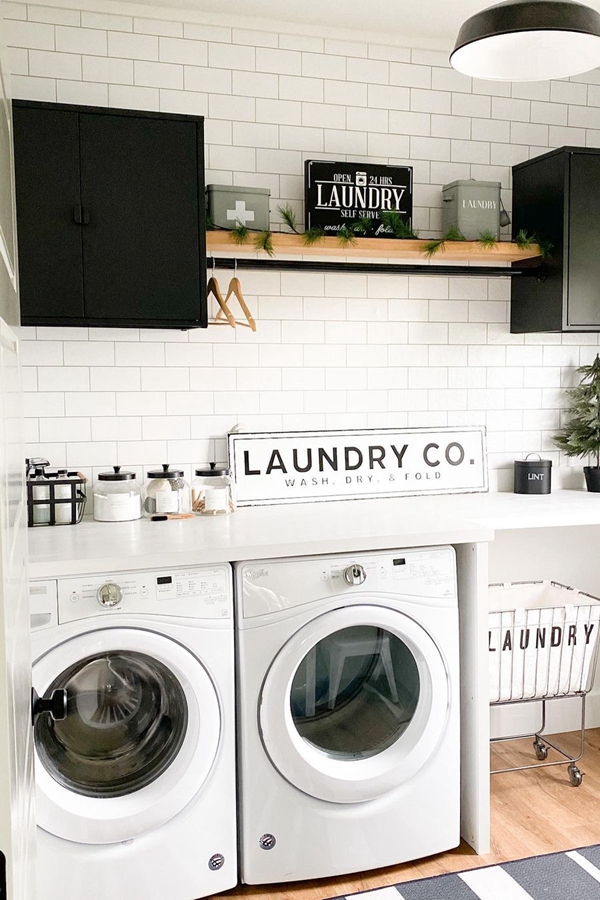 credit: The Cozy Farmhouse
The black cabinets and tension rod give a bold pop against the sleek white of the shelving and subway tile wall.
13.Laundry Room Shelves with Pegs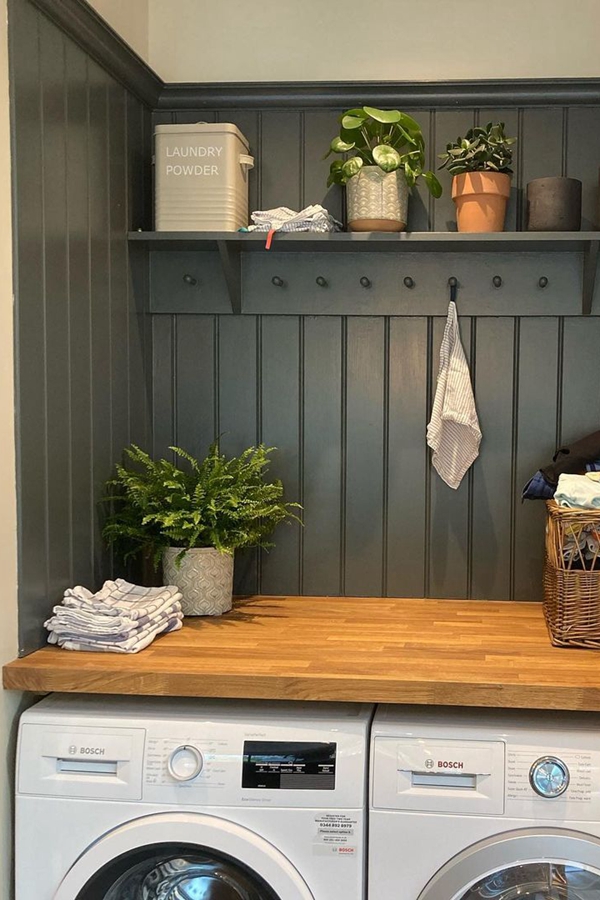 credit: 1894 Home
I didn't peg you for a fan of doing laundry! But with a great use of vertical space and versatile pegs to use for hanging, this option may make a laundry fan out of all of us.
14.Easy Wire Laundry Shelves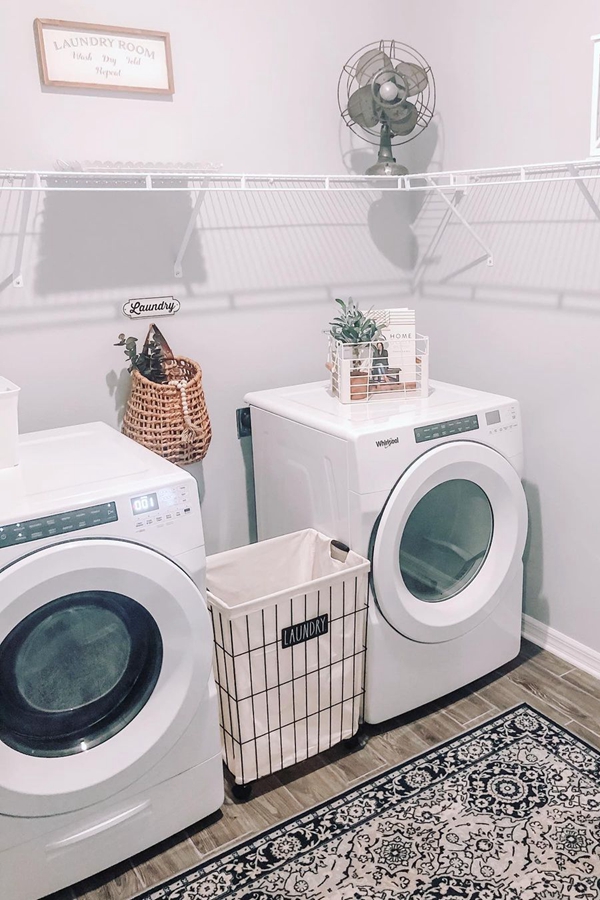 credit: Decorating DIY Mom
Wire shelves are not only super affordable, but you can find them almost anywhere. These fun and frugal finds can be purchased at any home improvement store.
15.Repurposed Crate Laundry Shelves
credit: Farmhouse Fanatics
This laundry room has made great use of some repurposed wooden crates. Paint them in any color to match your style.
16.Wood-Framed Laundry Shelves
credit: Vintage Revivals
Sliding doors and a wood trim frame this storage area to help create a laundry room in which we wouldn't mind spending our weekends.
17.White Cabinet Shelf Combo
credit: Texas Forever Farmhouse
In addition to the clean white shelves and cabinets, this laundry room also boasts a butcher block counter.
18.Farmhouse Laundry Shelves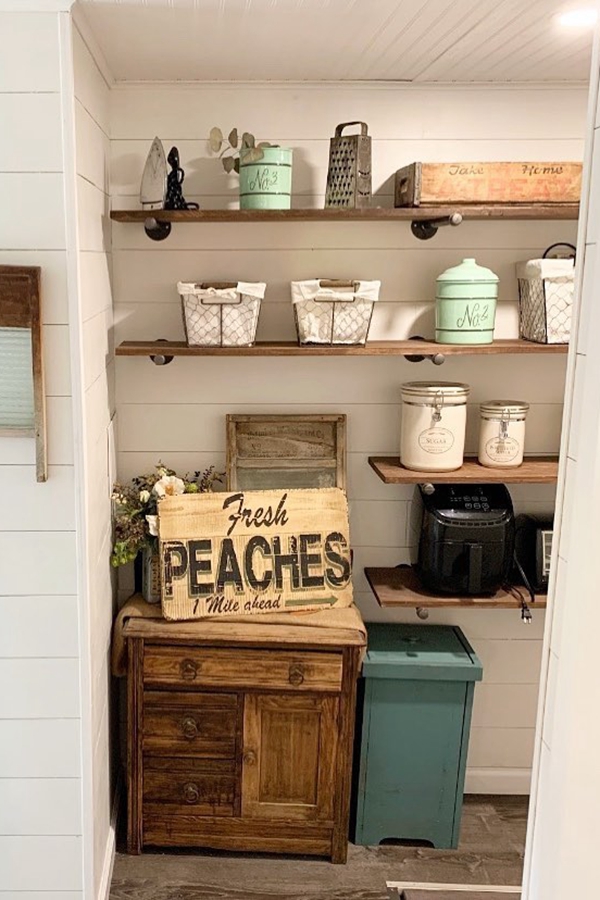 credit: My American Farmhouse
Gather all of your country accents! Adding these rustic wooden shelves to a country-themed laundry room will leave plenty of room for your favorite country decor.
19.Shiplap Laundry Shelves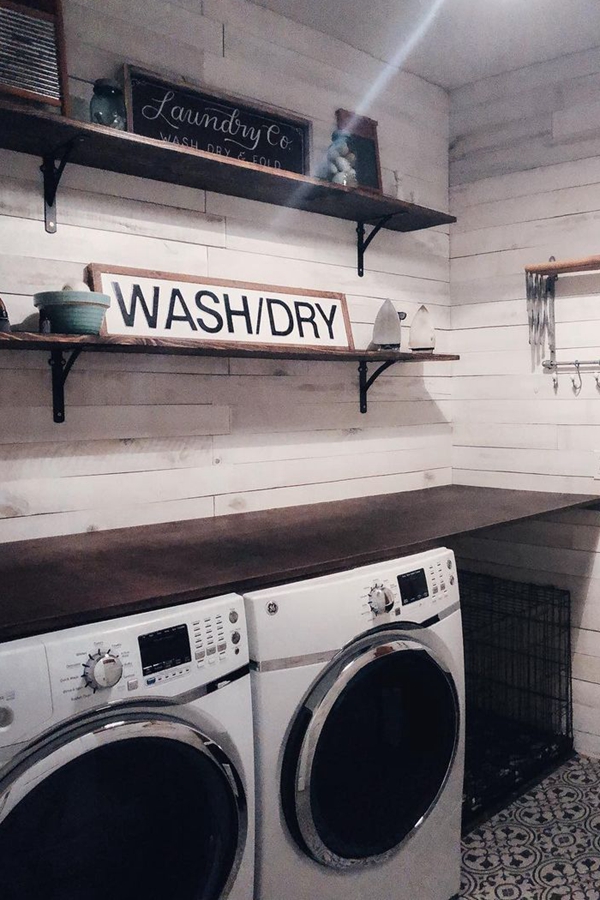 credit: Katie Bettenforf
Reclaimed wood is perfect for repurposing as a functional shelf. Use it to display your decor or store your soaps and dryer sheets. Hashtag shiplap!
20.Reclaimed Wooden Laundry Shelves
credit: The Little Pink Nest
Who wouldn't want to do laundry in this inviting laundry room which features reclaimed wood shelves with matching repurposed wooden crates? Two contrasting colors of woods means two handy shelves for even more small space storage.
21.Laundry Shelves with Matching Cabinets
credit: Jilly Lizzy Interiors
This useful shelving helps make the most of a small space. Use the shelves to display decor and the cabinets to hide the laundry detergent.
22.White Laundry Shelves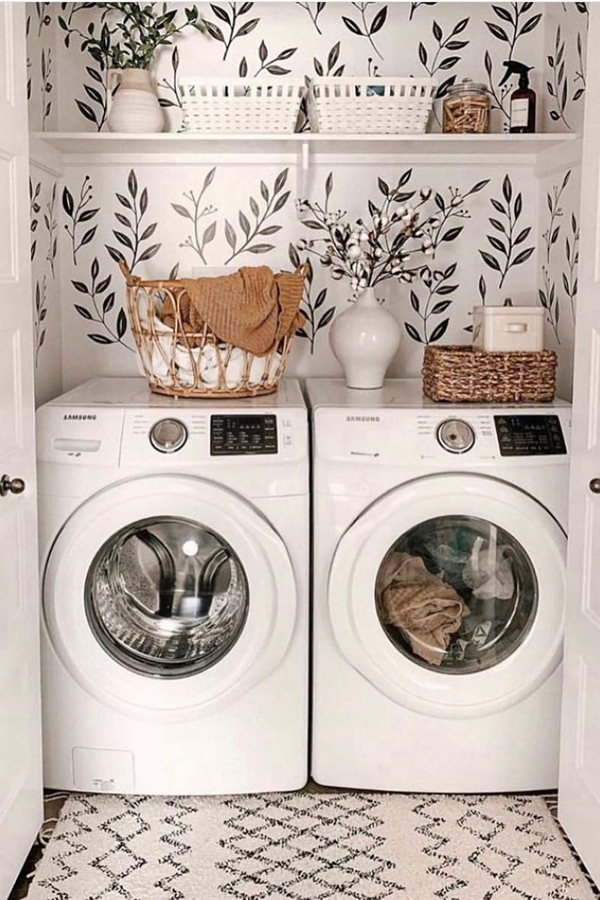 credit: Mademoiselle Hortense
Is your laundry and utility area getting cramped? Create space for your supplies and decorations by adding a clean, smooth white shelf for additional surface area.
23.Simple Wooden Laundry Shelves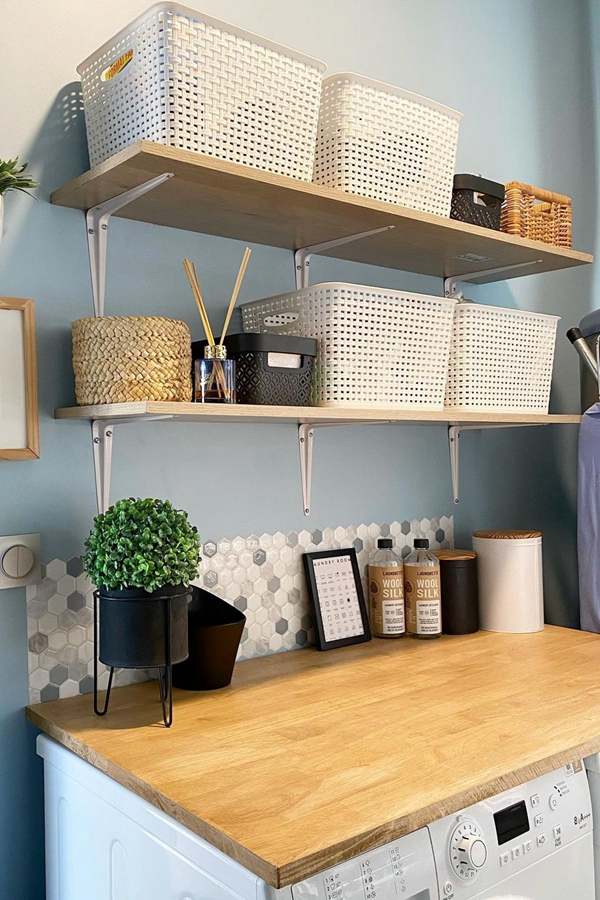 credit: La Maison Daure
Wooden shelves are always smooth and uncomplicated. Stack these shelves vertically to make the most of your space. Hang using simple L brackets found at any home improvement store.
24.Basic White Laundry Shelves
credit: Home on Fairfax
Another fab farmhouse find! This laundry room uses plain white shelving to display its country decor.
25.Wooden Block Laundry Shelves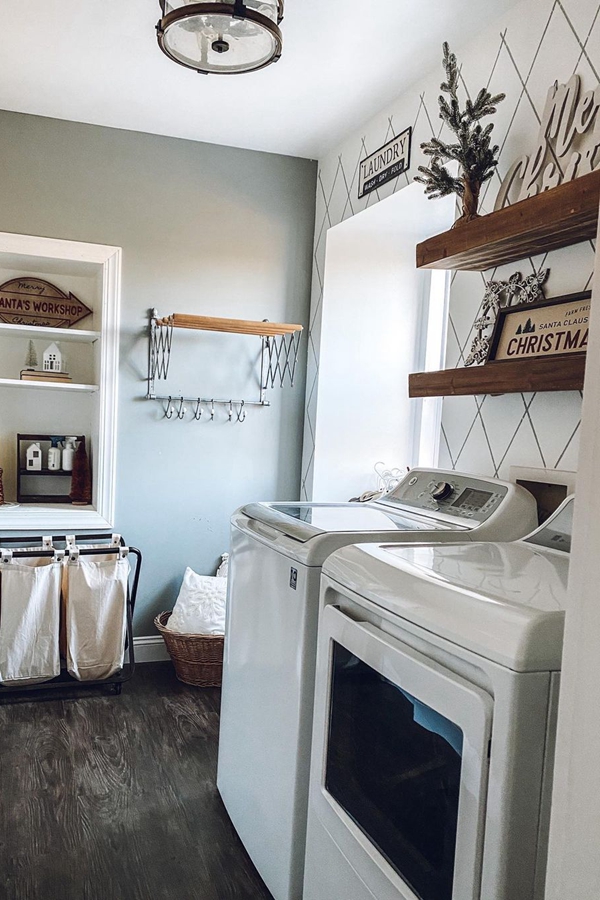 credit: 1900 Stone Farmhouse
'Tis the season to fluff and fold. These wooden block laundry shelves display some Christmas decor to add some holiday cheer to your chores.
From farmhouse to French country, the above options plant seeds of inspiration in those of us who may not care to spend our free time in our laundry rooms. These laundry shelf ideas show us how we can create a warm and inviting space in which to spend our time while we complete this unpopular task.
After you iron out the details of your new laundry room look, it's time to head to a local craft store or home improvement center to get things started. Whether you're using prefabricated shelves or reclaiming a few slabs of wood from an old country barn, you'll be on your way to creating a pleasing environment in which to spend laundry day. Do you have fancy shelving in your laundry room, or do you prefer to keep it sleek and simple? Please share these links to spread the inspiration, and leave us a comment telling us which of the above options is your personal favorite.