Who doesn't like adding a bit of flare to their hair? Headbands, clips, and bows have been a time-tested way to dress up our long locks starting from when we first had only just a few strands of hair to the day when we walk down the aisle.
Are you in search of some snazzy clips and trinkets to dress your tresses? There are so many options out there that you'll find it tough to choose a favorite. From felt to acrylic, or headband to hair clip, check out these finds below:
1.Pom Pom Hair Clip for Girls
Take a look at these perfect pom poms! Not only are these no-slip clips, but they are also toddler friendly.
Shop on ETSY Shop: Miss Mane Accessories, price: $4.14
2.Handmade Knitted Hair Clips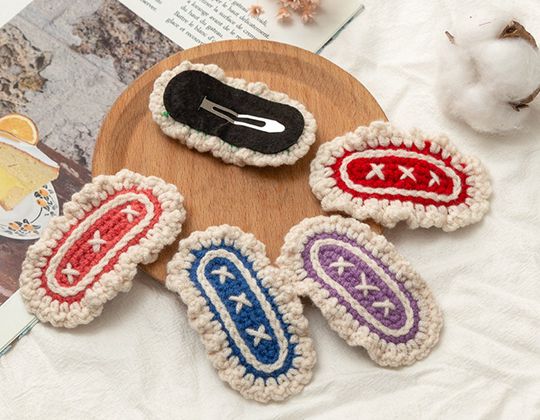 These crocheted hair clips make an adorable accessory. They are hand-knitted and come in a variety of colors.
Shop on ETSY Shop: Unbelievable Handmade, price: $7.12
3.Cute Cat Pastel Handmade Hair Clip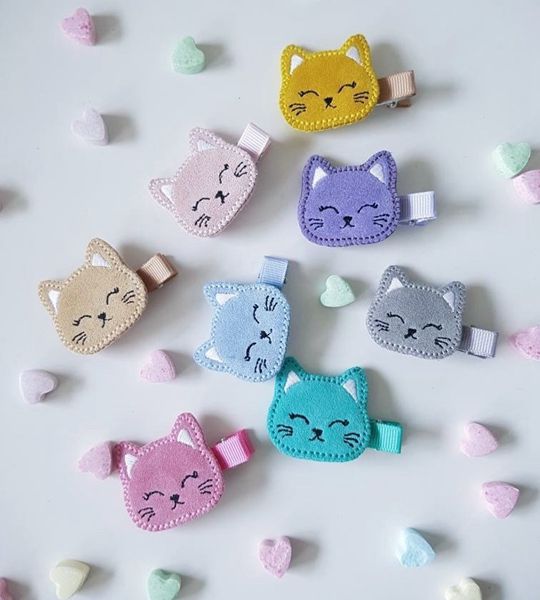 Check out this sleepy feline find. It is perfect for a stocking stuffer. They are handmade and perfect for toddlers as well.
Shop on ETSY Shop: Oh My Crown, price: $6.36
4.Macrame Rainbow Hair Clip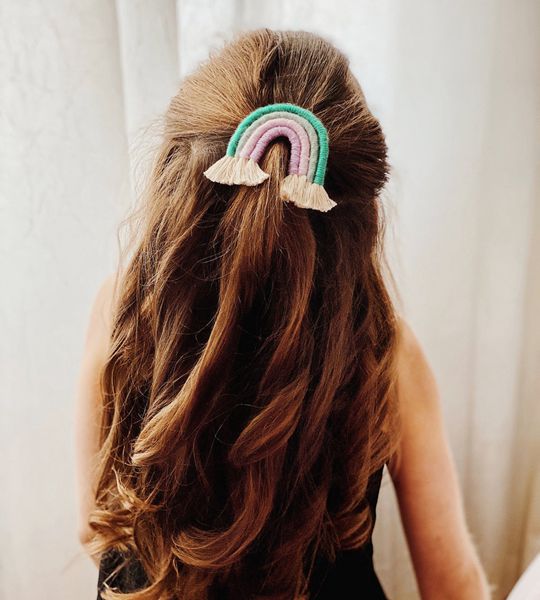 Who needs a pot of gold when your hair is adorned with this fetching rainbow find? These are a perfect gift to give to your own little leprechaun.
Shop on ETSY Shop: The Wooly Canvas, price: $12.18
5.Clover Dot Flower Baby Hair Clip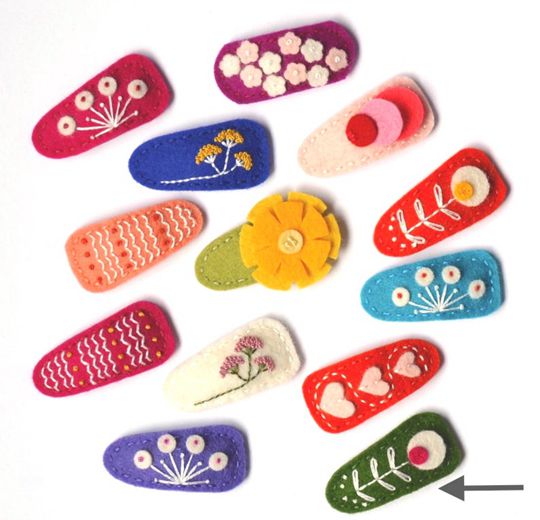 These clips will have your baby in bloom. These colorful clips are made with felt and perfect for all ages from babies to toddlers.
Shop on ETSY Shop: Modern Bean, price: $6.50
6.Bumble Bee Hair Clip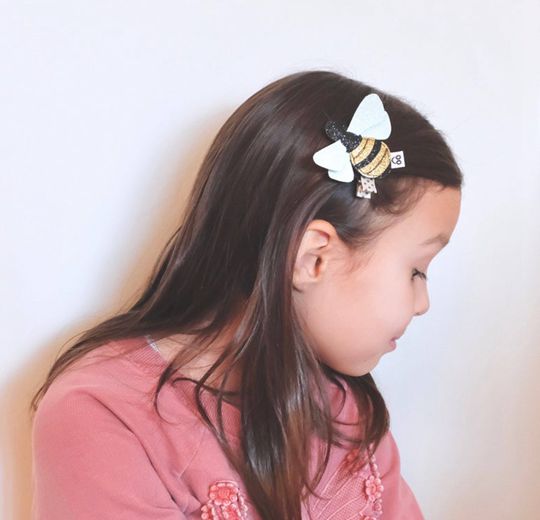 Take a look at this buzzing beauty! Your own little honey will look like the queen bee with this adorable clip.
Shop on ETSY Shop: doodleli doo, price: $15.00
7.Back to School Felt Hair Clip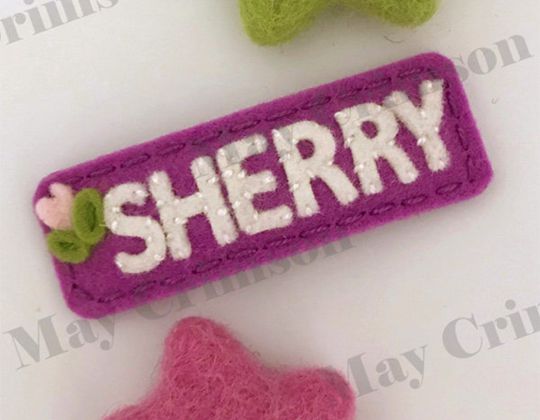 What an adorable adornment! Any teen or tween would just love to show off their hair with this personalised piece. Makes a great gift.
Shop on ETSY Shop: May Crimson, price: $8.00
8.Unicorn Hair Clip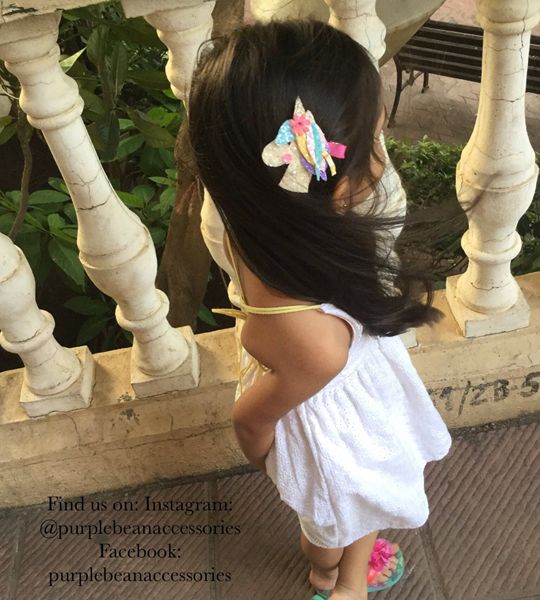 Your kiddo will have an absolutely magical mane with this sparkly find. Handmade with felt and glitter to give it that unique unicorn sparkle.
Shop on ETSY Shop: Purple Bean Boutique, price: $8.50
9.Rainbow Sun Cloud Moon Clip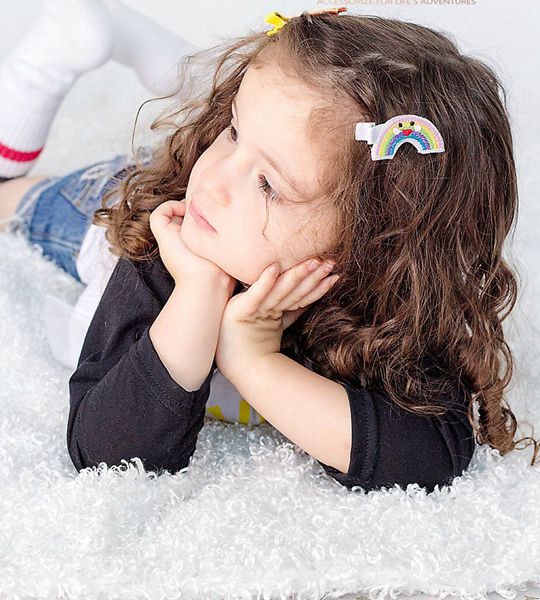 This four pack of clips will have you ready to weather any bad hair day. These make a great gift or party favor come rain or shine.
Shop on ETSY Shop: Kena Bows, price: $3.50
10.Pink Grey Felt Trio Hair Clip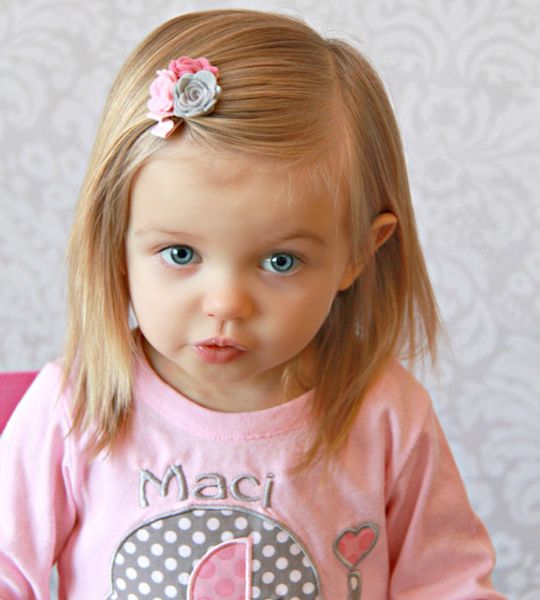 Here's another mini pink find. This pink floral clip is such a great adornment for your kiddo's crop.
Shop on ETSY Shop: Kugga Kids, price: $7.00
11.Felt Flower Daisy Hair Clip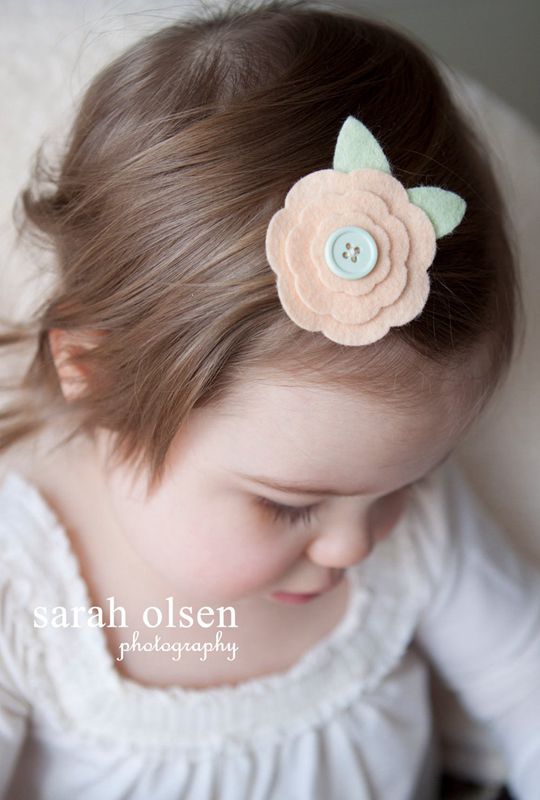 This felt find is just cute as a button. If you buy one for your baby, you may just want to consider getting a second one for yourself. They're perfect for all ages.
Shop on ETSY Shop: Maple Sugar Lane, price: $5.95
12.Reindeer Headband for Christmas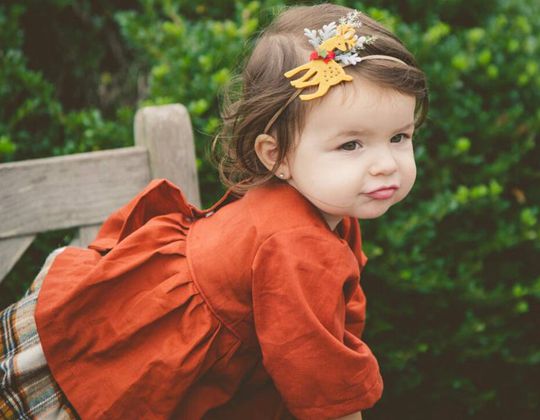 When you deck the halls this Christmas, don't forget to deck your 'do! This charming reindeer headband is the perfect accessory for a baby's first Christmas.
Shop on ETSY Shop: The Little Felt Shoppe, price: $11.50
13.Ribbed Corduroy Snap Clips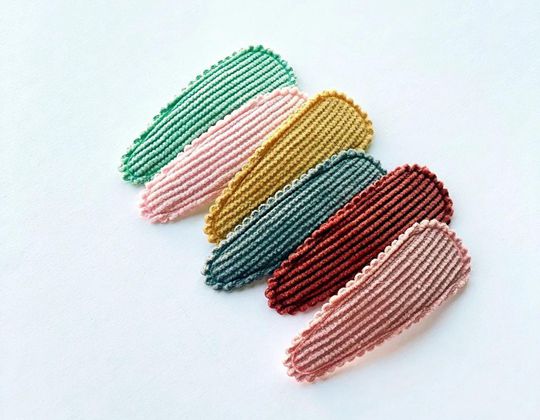 Check out this colorful set of six corduroy clips. Your teen will love the boho chic look as well as the variety of colors.
Shop on ETSY Shop: Golden Dot Lane, price: $5.99
14.Starfish Hair Clip
These little sparkly starfish bring an under-the-sea flare to your hair. Another one that you'll want to give as gifts or as party favors.
Shop on ETSY Shop: lil miss dazzle clips, price: $3.20
15.Handmade Felt Fruit Hair Clips
Felt fruit is fun to say, but it's even for more fun to wear these juicy gems. These delightful hair clips certainly do look good enough to eat.
Shop on ETSY Shop: Ribbon Kids, price: $3.20
16.Cosmos Hair Clips
From pink to blue to yellow, these felt hair clips with matching button bloom come in 50 different colors to choose from.
Shop on ETSY Shop: Modern Bean, price: $13.50
17.Giraffe Felt Hair Clip
Wearing this darling giraffe will make your little one want to stick her neck out. These sleepy sweeties are perfect for babies and toddlers.
Shop on ETSY Shop: Corrina 318, price: $3.99
18.Ice Cream Felt Hair Clip
I scream, you scream, we all scream for these sweet ice cream-themed hair clips. The pastel colors are perfect for your baby.
Shop on ETSY Shop: Ribbon Kids, price: $2.80
19.Cute Acrylic Animal Hair Clips
Owls and whales and chicks, oh my! Get ready to have some fun down on the farm when your little one wears these acrylic critters.
Shop on ETSY Shop: We Love Stitches, price: $6.50
20.Trecker Red Blue Tractor Clip
These tractor clips come with matching rubber band hair ties. Your kiddo may have a tough time deciding between the racing red or the beautiful blue.
Shop on ETSY Shop: Sukawati, price: $3.44
21.Felt Animal Hair Clip
Between the bunnies and the bears, I can't decide which of these charming hair clips is the most adorable. These felt clips come in a variety of animals and
colors.
Shop on ETSY Shop: Ribbon Kids, price: $3.50
22.Halloween Black Cat Hair Clip
Meow! These spooky finds are just too darn cute to be scary. They'll make your kids want to celebrate Halloween all year long.
Shop on ETSY Shop: Baby What Knots, price: $9.00
23.Doll Face Hair Clip Holder
Now that you have stocked up on all of these fun, felt finds, where will you store them? Well look no further than this delightful doll face. She has plenty of room for all your newfound hair clips
Shop on ETSY Shop: Baby What Knots, price: $27.00
24.Breakfast Cereal Hair Clips
Snap, crackle, pop! These baby barrettes look both colorful and delicious. What a great way to show some appreciation for the most important meal of the day.
Shop on ETSY Shop: Corrina 318, price: $3.99
25.Vintage Button Hair Clips
These snap-on hair clips come in a set of four. Your teens will love these handmade clips that boast vintage buttons.
Shop on ETSY Shop: Healthy Little Foodies, price: $8.27
Whether your little ones are just finally sprouting some peach fuzz up top, or you have teens with long, flowing tresses, there is no end to the variety of hair clips for kids. With this long list of options, you'll have gift ideas for your own children as well as family and friends. You can buy them for presents or give them as party favorites. When it comes to our hair, everyone loves to embellish their locks. Perhaps you'll want to buy a couple extra for yourself!
Which of these clips in the links above was your favorite? Please share these hair clips for kids to show off the ideas and spread some inspiration for those hoping to create their own. Leave us a comment telling us which of the above options was your favorite felt find!